Ceiling fan - motor control and drive solutions
Overview
Energy-efficient and cost-effective with high integration for system size reduction
Ceiling fan manufacturers currently face more stringent regulations on energy efficiency and form factor. They are also under constant pressure to reduce costs. Infineon can help to provide compact, energy-efficient and cost-effective motor drive solutions.
We are your partner-of-choice for innovative ceiling fan designs: Our portfolio offers a wide range of solutions for inverterized fan motor controls – whether your priority is achieving the highest level of integration using our IPMs or showcasing ultimate flexibility with the right price-performance using our discrete IGBTs or MOSFETs. No matter your target, our power semiconductors, drivers, IPMs, and iMOTION™ motor controllers are designed to work together seamlessly. This means you can effortlessly realize smoother-running, quieter systems with low energy consumption and a smaller form factor.
Products
By selecting components from Infineon, you get parts engineered for best-in-class performance that upholds the highest quality standards for long-term reliability. Moreover, our excellent supply chain allows you to meet the changing supply demands of the fluctuating consumer market. Explore our selection of semiconductor solutions now to find the best-fit components for your designs.
It is also important to mention that most of the current ceiling fan designs are operating at low voltage (< 100V). However, we are seeing a significant trend towards high voltage due to ease of implementation (no need for converter) and cheaper power electronics. Infineon is here to address both solutions.
iMOTION™ ICs integrate all the control and analog interface functions required for sensorless field-oriented control (FOC) of PM motors using DC-link or leg shunt current measurements. In addition, they feature Infineon's patented and field-proven motor control engine (MCE) that eliminates software coding from the motor control algorithm development process. Implementing a variable speed drive is reduced to configuring the MCE for the respective motor. Assisted by powerful tools it is possible to have the motor up and running in less than an hour!
Paired with CIPOS™ IPMs or discrete MOSFETs/IGBTs, you can achieve a fully functioning ceiling fan system ready for production at the shortest development time possible.
To help you evaluate and easily chose the right power solution for your ceiling fan design, Infineon proposes a wide range of evaluation boards paired with our control board. For more information check our Modular Application Design Kit portfolio.
The times of pulling a cord to turn the ceiling fan on and off are long gone. These days there are more convenient ways to do so. Infineon offers the entire range for IR remote control over Bluetooth and Wi-Fi to voice control and touch sensing.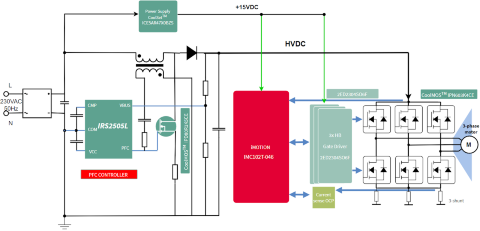 PSoC® 6 bridges the gap between expensive, power-hungry application processors and low‑performance microcontrollers (MCUs) for higher end ceiling fans. The ultra‑low‑power PSoC® 6 MCU features an Arm® Cortex®‑M4 for high‑performance tasks and an Arm® Cortex®‑M0+ for low-power tasks, and with security built-in, your IoT system is protected.
AIROC™ Wi-Fi & Combos integrate IEEE 802.11a/b/g/n/ac WLAN and Bluetooth® in a single-chip solution to enable small-form-factor IoT designs. These solutions can be coupled with external MCUs from popular vendors or Linux on application processors to implement a complete Wi-Fi + Bluetooth® system. A great way to provide state-of-the art control to your ceiling fan.
Responding to a growing focus on embedded systems amongst attackers, Infineon offers OPTIGA™ Trust hardware security solutions based on a high-end security controller optimized for connected devices. It provides extremely flexible, high-performance, secured access to any major cloud provider.
Highlights
Podcast4Engineers: Home Appliances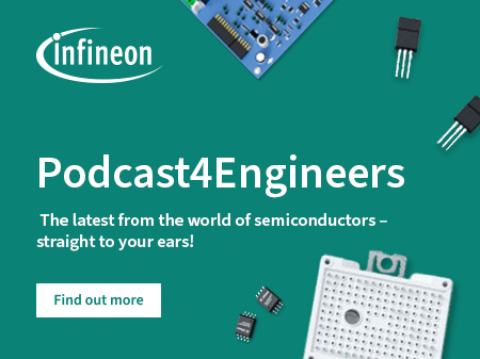 Smartification and electrification aren't just limited to our smartphones and computers anymore; these trends are steadily making their way into our home appliances and the market is booming. But what technologies are driving home appliance innovation and how do semiconductors play a role?
Listen to our latest podcasts to learn more about home appliances and how Infineon technology is powering the smart home of tomorrow.
Whitepaper: The rise of the smart kitchen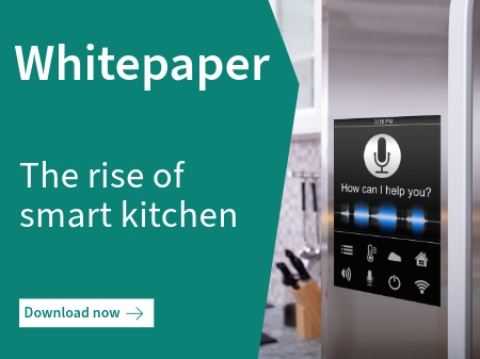 This whitepaper charts the rapid rise of the smart kitchen and looks at how advances in electronic solutions have resulted in a new generation of quieter and more energy-efficient appliances driven by intuitive sensor-based operation.
Webinar: System solutions for the smart home appliance era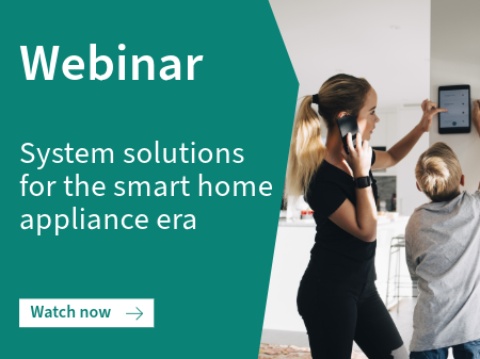 Modern home appliances are increasingly smart and connected, providing a seamless, remote user experience. Users control operation and receive live data from appliances, whether it's the contents of the refrigerator or information on the status of laundry. In turn, manufacturers can remotely analyze the device and suggest predictive maintenance to avoid costly repairs. This webinar will show you how Infineon's smartest power designs can help you achieve the highest efficiencies, smallest form factors and significantly improve your appliances' carbon footprint to make them smart, connected, and secured.