Smart wearables –Integrated and discrete solutions
Overview
Please choose a subcategory
Smartwatches, sports watches, fitness trackers and healthcare wristbands for today's connected generation
Today's hyperconnected consumer wants one thing above all else – convenience! In other words: easy, intuitive ways to tune into the entertaining and useful information they love and need – without switching between different devices or screens.
The answer is surprisingly simple: wearables. Gadgets such as smartwatches, sports watches, fitness trackers and healthcare wristbands can be comfortably and discreetly worn on the body. In addition, they support a growing number of use cases, including payment, access, health and activity tracking, education, and gaming. Wearable tech delivers a curated flow of information in a digestible, easy-to-understand format, and can trigger customized notifications or send alerts to connected services.
Wearable design as key success factor
Today's wearable design engineers face a number of challenges. In addition to an ultra-compact form factor, smart bands and watches must offer ease of use plus intuitive visualization. Other success factors include high-bandwidth connectivity, measurement accuracy, operational longevity, low power consumption, and stability. Since wearable and health tech devices record the user's movements in changing environments, components must be designed for operational stability under different conditions, while always ensuring precise, robust measurement of pressure and motion. Also, wearables must embed hardened security so users don't have to worry about personal or confidential data falling into the wrong hands.
One-stop offering
Our wide solution portfolio covers all RF, sense, wireless connectivity, power, memory, and embedded security building blocks required to meet all of these design challenges and wow today's discerning user. Small in size, our XENSIV™ sensors enable sports, health, and activity monitoring to the highest standards of quality and precision. Our XENSIV™ 60 GHz radar sensor, for instance, is ideal for evolving health monitoring use cases such as blood pressure or heart rate sensing.
Looking beyond sensors, our RF portfolio enhances the user experience further with seamless connectivity and location tracking. Designers can choose between different charging modes, removing the hassle of cables and power outlets with wireless/NFC solutions or miniaturizing designs with USB-Type C controllers.
Wearable designers can also rely on us for a rich set of security solutions targeting different use cases. Our OPTIGA™ Trust family offers a broad selection of hardware-based trust anchors supporting embedded authentication and device protection. Specific family members such as OPTIGA™ Connect Consumer and OPTIGA™ Authenticate S were designed to extend secure cellular connectivity to wearables and to protect against counterfeit replacement parts by giving each device a unique ID respectively. The SECORA™ Connect family brings secure NFC capabilities to wearable tech.
Highlights
Infineon SEMPER™ Nano NOR flash: optimized for wearables and hearables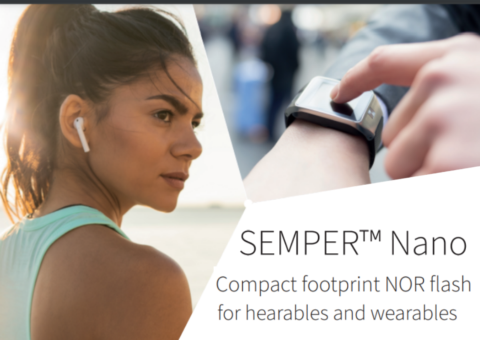 SEMPER™ Nano provides enough memory for advanced features, while delivering industry-best power consumption in a tiny footprint. Solutions Hub software, kits, boards, and resources simplify design and accelerate time-to-market.
On-Demand Webinar: Memory Solutions for wrist-worn devices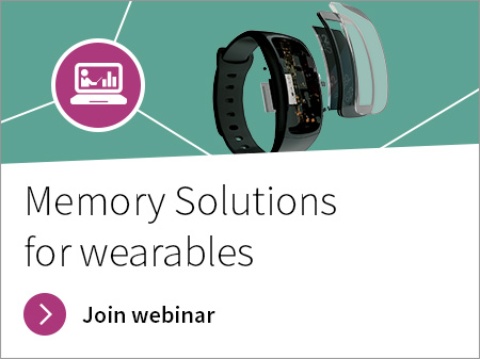 This webinar will teach you about functional design blocks and innovative use cases for wearables enabled by our broad product portfolio. Get an overview of memory solutions, and how it is superior to the competition and understand the details of NOR Flash technology with SEMPER™ Nano, typical design challenges for NOR Flash, and how SEMPER™ Nano can fulfill these requirements.
Application brochure: Smartwatch, sports watch, wristband, and medical wrist-worn devices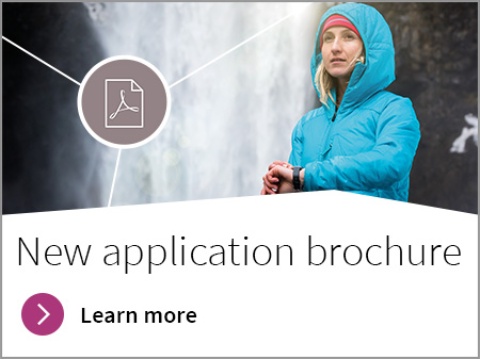 Infineon is a power semiconductor leader for IoT devices. With our broad product solutions and portfolio, you can solve design challenges such as data security, sensor accuracy, connectivity, device protection, all while enabling best-in-class power consumption and IC form factor.
Training
In this training, you will gain more insight on the benefits of replacing an old barrel power connector with USB-C and how to do it.
Webinars
In this webinar, you will learn:
Get a basic understanding about the sub-segments and its market
Gain insights in the main trends, use-cases and functional blocks
Understand the relevant Infineon products and solutions for wrist-worn devices