Commercial, construction and agricultural vehicles (CAV)
Overview
Minimize Total Cost of Ownership (TCO) & Maximize Productivity: Customized System Solutions for Buses, Trucks, Construction, and Agriculture Vehicles

Stay ahead in the Commercial, construction, and agricultural vehicles (CAV) market with Infineon's eco-friendly solutions with high reliability and low TCO. Embrace autonomous technologies for safer, uninterrupted operations. Our electrification solutions not only help you ensure compliance with emissions regulations, but also boost efficiency. Experience 24/7 functionality and data-driven navigation, and join the forefront of industry transformation.
Experience our interactive etruck and find all information for your CAV design requirements
Highlights
New white paper about electrified heavy-duty vehicles
Electrification as a key to reducing emissions and improvements in energy storage technology and developments in supplemental infrastructure enables the fully autonomous long-haul operation. Standardization for autonomous trucks, busses, and in-city delivery vehicles needs to improve to support cross-border or even cross-continental interoperability.
This whitepaper covers the electrification of heavy-duty vehicles focusing on battery, charging, drive train, and power semiconductor aspects. Learn more about the technical bits and pieces to solve this global puzzle in this white paper.
Podcast4Engineers: Electric commercial, construction and agricultural vehicles (eCAV)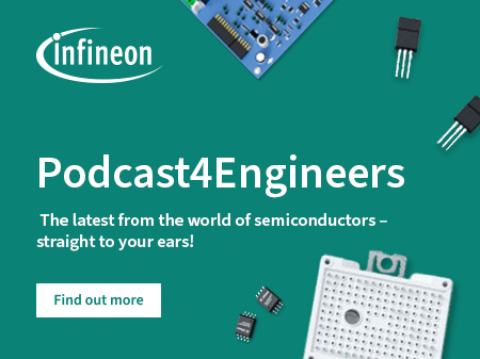 E-mobility is not only a hot topic but also a broad one. Our experts paint the picture of electromobility in our podcast series, ranging from toy-sized hoverboards to oversized mining trucks and many vehicle applications in between. Learn how Infineon is helping to make the world of transportation easier, safer and greener.
Videos
Training
Webinars
With proven expertise and a comprehensive portfolio of robust, high-quality control and power semiconductor solutions, Infineon helps you engineer successful and reliable designs for commercial, construction and agricultural vehicles.
Key Takeaways:
1.Understand how Infineon responds to the trends in the CAV market
2.Get an overview of different applications: Main drive, auxiliaries
3.Learn about the system solutions with power modules, gate drivers, microcontrollers AURIX™, sensors, and more
Gain a deeper insight into Infineon's sensors, microcontrollers and memories that serve one of the megatrends in the commercial, construction and agricultural vehicle (CAV) market: electrification.
Key Takeaways:
1. Learn how Infineon responds to the trends and challenges in the electrification of the CAV market
2. Explore Infineon's power modules for hybrid and electric solutions as well as our sense and actuate portfolio
3. Examine how we serve applications with increasing demand of semiconductors in the industry