EZ-USB™ SX3 FIFO to USB 5 Gbps Peripheral Controller
Überblick
USB 5 Gbps easily configured for UVC/UAC or USB3 vision applications
Infineon's EZ-USB™ SX3 can be configured with an abundance parameter setting in an easy-to-use Graphic User Interface (GUI), which can customize VID/PID, product strings, serial numbers, FIFO settings, GPIOs, USB endpoints and auxiliary interface. The utility can also create spec-compliant USB Video Class (UVC) and USB Audio Class (UAC) configurations without firmware development, reducing time-to-market for your next product. In addition to the configurable parameters, developers can also utilize the integrated 32-bit ARM9 processor to perform other tasks to differentiate in the market.
Infineon also offers a rich portfolio of USB Type-C port controllers that can be used with the EZ-USB™ SX3 to add USB-C and USB Power Delivery features to cameras, video capturing, or other data acquisition applications.
Highlights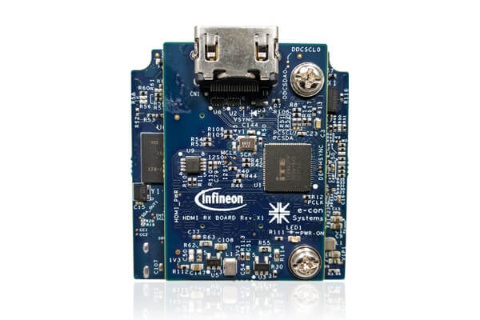 Pictor- Infineon® SX3 USB 3 HDMI 4K Capture reference design kit (RDK)
Pictor is an easy-to-use USB 3 based HDMI video and audio capture card reference design kit. It helps to transfer streaming data from HDMI source to any USB host without any data loss. It can support up to 4K UHD resolution at 30 fps in uncompressed format. Pictor is based on Cypress EZ-USB® SX3™, a USB 3.2 Gen 1 camera controller, Lattice ECP5 FPGA, DDR3 SDRAM based frame buffer and HDMI receiver IC. This reference design kit (RDK) is fully compliant with USB Video Class (UVC) and the USB Audio Class (UAC), so it does not require any custom USB drivers to be installed on the host PC.