Microcontroller Safety Products PRO-SIL™/ ISO26262
Overview
Infineon's Safety Concept
The PRO-SIL™ trademark designates products which contain SIL-supporting features covering technical aspects in hardware and software, but also supporting features like development process and user documentation.
AURIX™ was developed as a Safety Element out of Context (SEooC) fulfilling the applicable objectives of ISO 26262:2018 up to ASIL-D. The customer benefits of AURIX™ PRO-SIL™ safety and security microcontrollers include:
supporting the development of applications with ISO 26262:2018 certification
supporting protection against random faults as described in the safety manual
accelerating the development of safety critical applications via SW libraries
Safety documentation
Register and get acess to our free SAFETY documentation (Safety Manuals , IEC 61508 and ISO 26262 documentation, AURIX™ SafeTpack and SafeTlib product briefs and much more).

Here you can find step-by-step instructions to get registered for myICP and gain access to the Safety Library.
Infineon's PRO-SIL™ portfolio
Navigate the image below to learn more about Infineon's PRO-SIL™ portfolio:
PRO-SIL™ highlights :
Broad hardware portfolio, including sensors and microcontrollers, along with analog and power management ICs that provide SIL-supporting features
An independent functional safety management organization supports the ISO 26262 safety integrity level
Safety documentation, such as the safety manual, safety analysis summary report, and ISO 26262 certification, can be made available for dedicated PRO-SIL™ products (NDA may be required)
Infineon offers expert system integrator support for achieving the required ASIL on system level
Infineon's PRO-SIL™ logo will guide you to our products (hardware, software, safety documentation) with SIL-supporting features. Infineon's activities result in simplified integration in safety-related applications
Functional safety microcontrollers: ISO 26262:2018 - The benchmark in functional safety
ISO 26262 defines the development of electric and electronic automotive systems with regard to their functional safety integrity levels. The aim of this standard is to reduce possible hazards caused by the failure and malfunction of such systems. The safety requirements for the development process depend on the ASIL rating of the target application and can range from ASIL A to ASIL D. Applications such as steering or braking systems are rated with the highest ASIL D level.
A failure in such a system can lead to an out-of-control vehicle, possibly resulting in fatal injuries. All newly developed parts, which address a certain safety goal will be based on an ISO 26262-compliant development flow, thereby allowing direct use in all safety-relevant applications. Devices which are developed prior to the ISO 26262 as a QM part can nevertheless be used in ISO-compliant systems as those outlined in part 8 clause 13 of the standard. In such cases, it is mandatory "to provide evidence of the suitability of hardware components and parts" for use in ISO-compliant systems and also to provide failure modes, their distribution and diagnostic capability.
To support our customers as they strive to achieve the highest ASIL at the system level, Infineon provides both the necessary support for qualification of existing pre-ISO 26262 safety and security microcontrollers, and the fully ISO 26262-compliant MCUs of the future.
Safety in cars: Infineon's AURIX™ is the first embedded safety controller worldwide to be ASIL-D certified according to ISO 26262:2018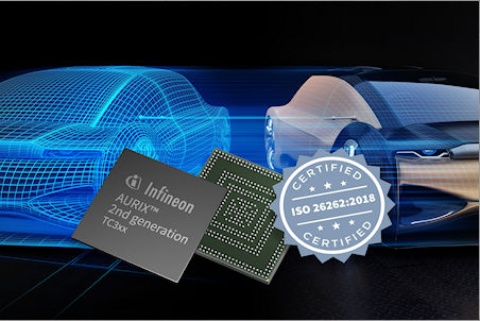 AURIX™ (TC3xx) microcontrollers are the first embedded safety controllers worldwide to be certified for the highest automotive safety integrity level (ASIL-D) according to the latest version of the ISO 26262 standard. The ISO 26262 certification describes a globally binding procedure for the development and production of safety-critical systems in cars. AURIX™ TC3xx devices have up to six processor cores with 300 MHz clock frequency each. Up to four of them have an additional Lockstep core. With around 3,000 DMIPS, PRO-SIL™ sets the bar for functionally safe computing power supporting ASIL-D among safety and security microcontrollers.
Critical safety applications :
Automotive security

Avionics

Powertrain systems

Hybrid and electric vehicles

Consumer

LED lighting

Industrial

Chassis, safety and ADAS

Commercial, construction and agricultural vehicles (CAV)
Application example: External safety mechanisms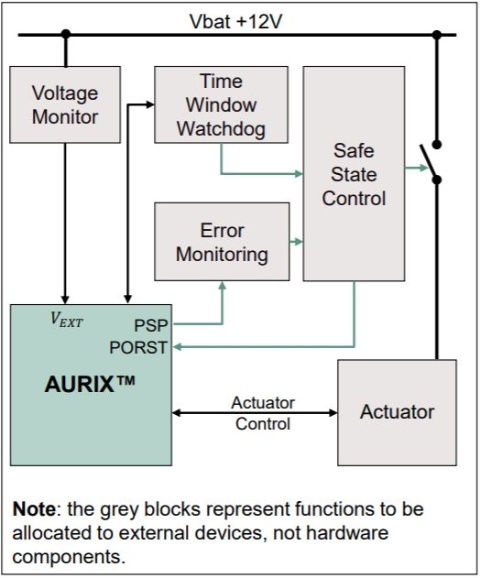 Overview:
AURIX™ can manage different fail scenarios such as detecting under/over voltage of the external supply and dependent failures which also cause the diagnostic system to fail
Advantages:
For all these fail scenarios, recommended reactions can be implemented, such as returning the system to its safe state
Well-defined reaction systems ensure that the faulty behavior of external components will not produce malfunctions
AURIX™ is fully designed with Pro-SIL™ (Safety Integrity Level) features
Hover over the diagram with the cursor to learn more about the peripherals and features of the AURIX™-TC3xx system architecture:
Highlights
Click on the bubbles below to discover more about AURIX™ Holistic Safety concept
AURIX™ Safety Solutions - Get more Information
Quick Trainings
| | |
| --- | --- |
| | Know more about AURIX™ Safety Concept |
| | Know more about AURIX™ SMU ( Safety Management Unit) |
Videos
Microcontroller Mediacenter