Welcome to Infineon's Procurement Site
Infineon is a globally leading semiconductor player with a global manufacturing footprint. To procure materials, equipment, subcontractor services, energy, facility management services, transportation, logistics, R&D services and more we engage with thousands of suppliers globally.
We manage our suppliers holistically and specifically focus on our strategic supplier. With our globally acting Procurement team we overall interact with suppliers headquartered in Asia Pacific (43%), Europe (33%) as well as Americas (24%).
Suppliers of materials directly related to our manufacturing have a direct impact to Infineon's operations. 42% of these suppliers have their headquarters in Europe, 41% in Asia Pacific and 17% in Americas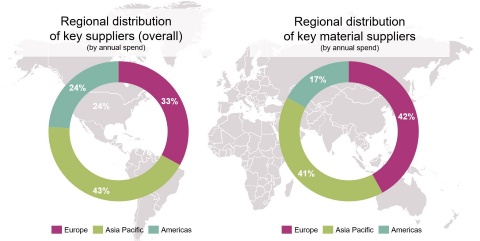 Please take this opportunity to learn more about becoming our supplier. At Infineon we actively seek suppliers whose objectives are compatible with ours. Specifically, we are looking for a commitment to deliver products and services with high quality at competitive prices worldwide.

More than half of Infineon's total costs occur with its suppliers. Only in close co-operation with our suppliers to optimize the whole value chain, we will achieve sustainable competitive advantages in the future. Infineon values those suppliers who can contribute new ideas through innovative technology or creative business solutions.

Therefore we implemented optimized processes for our procurement activities and built enabling organizational structures, using new leading technologies. Our suppliers must continuously improve their performance and thereby their costs as well as ours.
How to become a supplier
We at Infineon are committed to the principles defined in our Business Conduct Guidelines in all countries where we do business, taking into account international and local laws and cultural practices. We expect from our suppliers to do the same.

Our Supplier Code of Conduct (former: Principles of Procurement), which is aligned with Infineon Technologies Business Conduct Guidelines, shall help our suppliers to meet the ethical and legal requirements in their day-to-day work.
Security is becoming more and more important in the days of modern technologies. We at Infineon continuously strive to set our own IT security standards to state-of-the-art level.
Thus, we require a certain level of IT security measures to be taken by our supplier, which we summarized in the Supplier IT Security Guide, and which are in alignment with Infineon Technologies' own security standards.

In case you have reason to believe, that we are not living up to our own standards, feel free to contact either our Procurement Office (+49 89 234 45112 ) or our Corporate Audit Office (+49 89 234 23373).

We look forward to engage with suppliers that are aligned with us on these important topics.
Supplier Sustainability
A message from Angelique van der Burg, our Chief Procurement Officer
Our approach to Supplier Sustainability Management
We drive decarbonization and digitalization with our products and thus contribute to a greener future. At the same time, it is our priority to act sustainably and socially responsible in our own business areas and along our global supply chains. Our sustainability strategy is based on the ten principles of the UN Global Compact, of which we are a participant since 2004. Respect for human rights and environmental protection are firmly anchored in our corporate culture, and we are striving to continuously improve collaboration with our suppliers in this area.
Our Supplier Code of Conduct summarizes the basic business behaviour requirements that we require all our suppliers to uphold. As part of our Corporate Social Responsibility (CSR) risk management system, we are collaborating closely with the external platform provider IntegrityNext. The platform is free of charge for suppliers and allows companies to share their sustainability profile with other organizations in the network. In addition, as a member of the Responsible Business Alliance (RBA) we will continue our close exchange within our industry to further support supply chain due diligence standards. Effective risk management and positive impact can only be achieved if all players within global supply chains work closely together to fulfil their responsibility toward individuals and the environment.
Through our Infineon Integrity Line, all our stakeholders, including our direct and indirect suppliers, can report concerns or possible violations of human rights, national regulations or internal guidelines openly or anonymously. All reports are treated confidentially and include a non-retaliation policy. The Infineon Integrity Line also considers local languages in addition to English.
Quality Management
Our suppliers are fully responsible for the quality of their products. They must ensure that all products, supplied to Infineon Technologies, meet all applicable purchase specifications.

Each supplier must set up a quality management system that will achieve the requirements of the Purchase Specification part A. These requirements should be viewed as fundamental in any supplier's management system in order to support the Zero Defect approach of Infineon Technologies.

It is the responsibility of our suppliers to establish procedures and programs that document their quality practices.
The design and operation of the supplier's management systems to control and improve product quality are essential elements of continuing status as an acceptable Infineon Technologies supplier.
Infineon will review the supplier's management systems and their implementation and operation as appropriate.
Business Continuity
Should a disaster strike and remove a key component of the supply chain or affect it beyond its current capability to adjust, it will have severe repercussions on our ability to continue business. Because we rely heavily on our supply chain, it is therefore extremely important for us to understand our exposure to risk in this area.

Hence Infineon has embarked on implementing a comprehensive Business Continuity Management system, and part of that is to assess the business continuity capabilities of all key suppliers, subcontractors or supply partners who engage in business with Infineon or intend doing so.

All key suppliers are therefore required to provide us with sufficient proof of business continuity management systems or planning, control and mitigation. Proof can be provided in the form of plans, concepts or measures that are product specific, while strategic enough to encompass risk assessment measures, disaster prevention and business interruption avoidance.

Suppliers will also be assessed on their risk management policies and practices as part of our supplier evaluation system.