Advanced driver assistant systems (ADAS)
Overview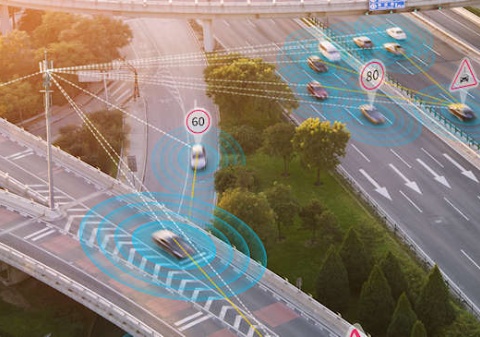 Outstanding progress in vehicles' advanced driver assistant systems – including lane assist, emergency brake assist and distance control – has put us on the fast track to fully autonomous cars.
When designing such exciting, potentially life-changing ADAS applications, above all you need reliable, fast information processing and a failsafe electronic control unit (ECU). Radar technology that collects information in and around the vehicle and feeds it to the respective driver assistant system is also paramount. Beginning in 2018, highly automated driving will require a minimum of five radar systems for 360°coverage.
Leading ADAS solutions from Infineon
In Infineon's broad product portfolio of top quality semiconductor solutions dedicated to ADAS applications, you'll find components that make your designs a success. For instance, our market-leading RASIC™ product portfolio of packaged and un-packaged radar chips.
We also offer the scalable microcontroller AURIX™ family for ADAS, suitable for radar (24GHz, 77 GHz, 79 GHz), camera, 2D/3D (TOF) and sensor fusion applications. Here our innovations enhance system partitioning to better integrate system functionality. This reduces the application's complexity and space, so you get highly optimized solutions.
New devices include high-speed interfaces, integrated hardware acceleration and enhanced ECU validation and instrumentation tools. All ADAS devices are designed in accordance with ISO 26262 safety methodology, meaning they are suitable for making automatic decisions to assist drivers, for example in emergency braking.
Another ADAS game-changer: the REAL 3™ Time-of-Flight image sensor. It delivers directly measured data with 3D depth. Ideal for in-car applications, like driver monitoring, or camera-based data collection on a car's interior and exterior.