(H) E-Vehicle – Auxiliary High/Low Voltage DC/DC
Overview
The architecture of electric vehicles comprises at least one low-voltage sub-network with a low-voltage energy storage and multiple electrical loads, and one high-voltage sub-network with a high-voltage energy storage. The auxiliary HV/LV DC/DC job is to enable the bi-directional energy flow between these two electrical subnets.
Your biggest challenges: achieving greatest-possible efficiency and keeping overall system costs in check. The space required for the DC/DC should also be kept to an absolute minimum. Infineon's portfolio is specially designed to help you overcome these barriers with ease.
Products
(H)EV - Auxiliary HV/LV DC/DC system diagram
System benefits
Fully automotive-qualified product portfolio including both power module and discrete solutions
Supports a wide range of highly-efficient conversion topologies (including bidirectional)
Compact design with highest power density
Very low switching losses at high switching frequencies
Isolation-integrated in gate driver
High-performance 32-bit microcontroller solutions
Evaluation Kit available to reduce system development time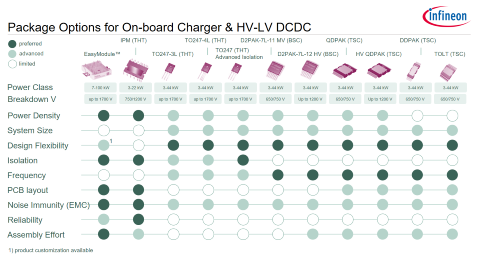 Infineon offers a broad portfolio on technology, products and packages.