Overview
Please choose a subcategory
Leading solutions for your robot design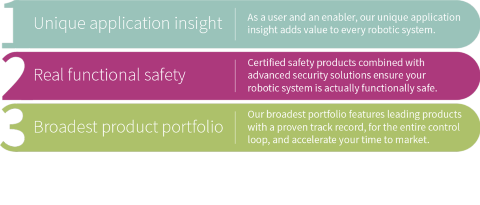 As both a leading supplier of robotic components and an advanced user of robots in our own fabs, we at Infineon have carved out a unique position on the market.
Our market-leading and comprehensive portfolio of power products, sensors, connectivity, and microcontrollers provide reliable system solutions that address the latest trends in robotics and add value to every robot design.
Choose your robot and find out more

Collaborative Robots

Cobots are designed to collaborate and work alongside humans. Their significant lower investment costs and flexibility allow new ways of automatization with increased productivity.

Choose your robot and find out more

Industrial Robots

Industrial robots have become increasingly in industrial environments. Investment costs keep falling, the highest production quality and precisely repeatable processes are ensured and human workers are relieved from working in dangerous environments.

Choose your robot and find out more

DomesticRobots

Energy efficiency and long battery life are key to user-friendly design. Infineon provides you with solutions from one hand, from the motor drive, Wi-fi/BLE to Sensors, charger, and many more solutions.

Choose your robot and find out more

Drones

Infineon brings ready-to-use solutions to a high-potential, emerging market of Drones. As a leading semiconductor company, we offer a complete system solution that includes every essential semiconductor.

Choose your robot and find out more

Mobile Robots (ABV, AMR)

The trend towards warehouse automatization logistics and the start of last-mile delivery services are propelling the deployment of mobile robots.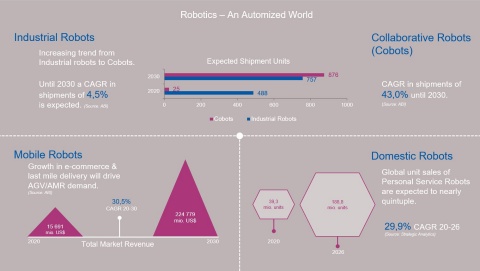 Capable of new skills, robots long ago left the grounds of production sites to serve as farmhands, surgical assistants, and domestic everyday helpers. Today, innovative start-ups are working on new service robots for use in professional applications, and in our homes and everyday lives. In the near and distant future, semiconductor solutions will continue to serve as the key enabler for a wide range of robotic functions and applications.
Highlights
Application presentation: Robotics superior solutions for industrial and service robots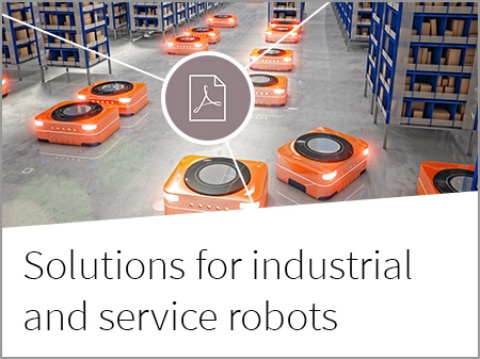 This presentation will guide you on our insight into all facets of the robotics field, and with a comprehensive portfolio of power products and sensors on offer, Infineon provides reliable system solutions that address the latest trends in robotics. Whether it is artificial intelligence, Internet of Things, smart home, cloud-based services, human-machine interface, or any robotics-related field, Infineon has value to add to nearly all robot designs.
Application presentation: we drive efficiency in drives - our expertise for your optimal drive systems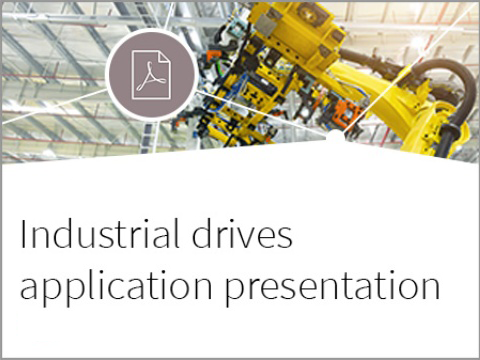 This detailed presentation will give an overview of the extensive product portfolio for industrial drive applications. The advantages of IGBT 7 technology, as well as Silicon Carbide solutions, are also presented. Everything in one document, including further links.
SuperSpeed USB for industrial automation - From 5 Gbps to 20 Gbps for high-speed imaging and video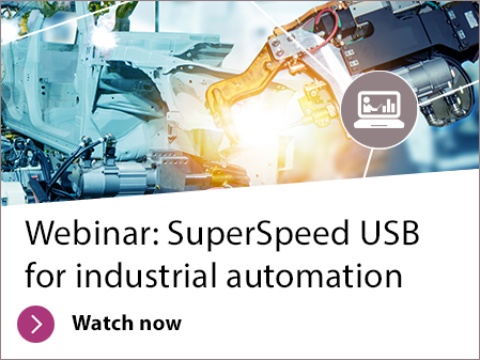 Industrial automation is growing and it is the future in manufacturing, in order to be able to embrace industry 4.0 we need machine vision that could provide better vision-guided robotics, automated production lines, and more precise quality control and inspection. Infineon´s EZ-USB™ portfolio includes a wide range of solutions for machine vision.
Training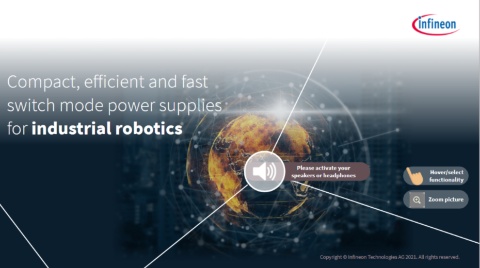 Whether you need a power supply, motor drives, sensors or customized safety and security solutions, Infineon is your one-stop shop for all robotic applications.
The focus of this training is switch mode power supply (or SMPS) techniques used in industrial robotics.
Service robots increase our effectiveness, but require sophisticated hardware to enable safe operation. Stay tuned to see what Infineon offers!