Hybrid electric solutions for construction, commercial and agricultural vehicles
Overview
Please choose a subcategory
Efficiency and endurance of the electric drivetrain is key for zero-emission vehicles

Rising CO₂ emissions and energy consumption are primarily caused by increasing economic activity and demand for goods, which leads to more transport and delivery. Although there are many more passenger cars on the road, heavy-duty vehicles such as long-haul trucks and buses account for about 27 percent of CO₂ emissions from road transport. The combination of rising emissions and the urgent need to comply with the latest emissions and energy regulations are the main reasons why the electrification of commercial, construction, and agricultural vehicles (CAVs) has become a pressing topic for manufacturers and users in recent years.

For this reason, these types of vehicles have to meet special requirements: In addition to reliability, durability, and robustness, they must also be environmentally friendly and energy-efficient. A scalable system level solution that reduces the time to market is also key.

Infineon combines outstanding technology solutions with system expertise to tackle these challenges. Our portfolio of highly-efficient switches and matching components offers reliability, quality, functional safety, and fail-safe operations in CAV systems. IGBT modules such as the EconoDUAL™ 3 and PrimePACK™ are critical building blocks. This enables the development of inverters that are high-performing, efficient, and provide safe traction for heavy-duty vehicles. Infineon's automotive modules, such as the HybridPACK™ family, complete the portfolio across the entire power spectrum for reliable inverter operation in harsh environments.

Infineon's AURIX™ microcontroller families combine our long-standing functional safety expertise with state-of-the-art architecture to help improve efficiency, performance, and scalability. The broad range of XENSIV™ sensors and Gate Driver ICs completes the offering of outstanding solutions for drive-train electrification.

Infineon's unique 1200 V CoolSiC™ MOSFET adds advantages that are key for auxiliary drive power switches in electrified CAV applications. Providing similar performance characteristics to those of IGBTs, SiC devices can switch at much higher frequencies. Exceeding 50 kHz allows the use of smaller passive components and filters. Even when switching at lower frequencies, SiC devices can reduce overall losses by up to 80 percent compared to IGBTs.
Experience our interactive etruck and find all information for your CAV design requirements
Highlights
New white paper about electrified heavy-duty vehicles
Electrification as a key to reducing emissions and improvements in energy storage technology and developments in supplemental infrastructure enables the fully autonomous long-haul operation. Standardization for autonomous trucks, busses, and in-city delivery vehicles needs to improve to support cross-border or even cross-continental interoperability.
This whitepaper covers the electrification of heavy-duty vehicles focusing on battery, charging, drive train, and power semiconductor aspects. Learn more about the technical bits and pieces to solve this global puzzle in this white paper.
Podcast4Engineers: Electric commercial, construction and agricultural vehicles (eCAV)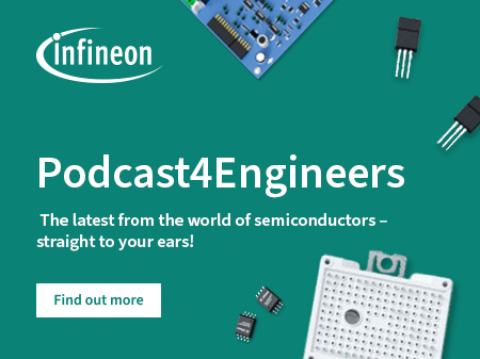 E-mobility is not only a hot topic but also a broad one. Our experts paint the picture of electromobility in our podcast series, ranging from toy-sized hoverboards to oversized mining trucks and many vehicle applications in between. Learn how Infineon is helping to make the world of transportation easier, safer and greener.
Videos
Training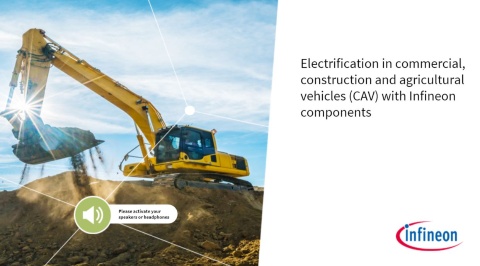 In this training, you will:
to know about the market trend "Electrification" in commercial, construction, and agricultural vehicles (CAV)
Understand the importance of customer enablement and how Infineon serves eCAV