Automotive pump and fan system design
Overview
Design solutions for integrated automotive engine control systems for pumps and fans
Please choose a subcategory
Whether electric or fuel-powered, luxury or economy class, vehicles today are equipped with increasingly more systems that rely on a wide range of motor control applications. This commonly includes powertrain applications like auxiliary pumps and fans, electric pumps such as fuel pump, oil pump and water pump, and fans like HVAC blower, engine or battery cooling fan.
Recent growth in vehicle electrification has resulted in greater dependence on microelectronic components. Besides the existing challenges, the addition of more and advanced microelectronic components inside the car and strict emission regulations have brought new challenges for automotive pumps and fans applications:
Car manufacturers face the challenge of accommodating a growing number of auxiliary pumps for several thermal management cycles, such as for battery cooling, in a limited space.
An increasing number of electric components inside the car requires more power.
Due to their location near the engine, motor control solutions for automotive pumps and fans must be highly robust and able to withstand high temperatures.
Automakers are looking for solutions to increase fuel efficiency and reduce carbon dioxide (CO2) emissions further to meet the emission regulations.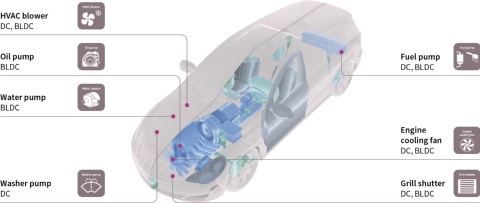 Infineon offers different system solutions to overcome these challenges and meet customer-specific preferences. Infineon´s extensive offering of intelligent motor control ICs is complemented by microcontrollers, sensors, transceivers, voltage regulators and MOSFETs to simplify the design of end-to-end system solutions and different integration levels are offered based on different customer needs. Integrated system on chip solutions, known as Embedded Power ICs, can deliver a best-fit set of functions to address these applications, especially for 12V.
To learn more and find inspiration for your project, explore our broad portfolio of 12V and 48V automotive pump and fan solutions. Reach out to our team to take your designs to the next level.
Training
In this training you will:
Know more about Infineon's wide MOSFET selection for 48 V mild-hybrid electric vehicle, or MHEV, applications
Understand why and how Infineon is strengthening its position in the 40 V MOSFET market, and be familiar with Infineon's newest 60 V MOSFETs
The microlearning has an application focus on auxiliary pumps and fans. It will give an overview of the application requirements of pumps and fan applications. In detail the key challenges of engine cooling fan, fuel pump, and oil pumps are shown and how those can be solved with Infineon's highly-integrated system-on-chip solution.
In this training you will:
Understand the challenges that automotive auxiliary water pump applications face
Find out about the different topologies used for thermal management for different drivetrains and learn which solutions Infineon provides for automotive water pump applications