32-bit TriCore™ Microcontroller
Overview
Powerful AURIX™ system architecture
AURIX™ is Infineon's family of microcontrollers serving exactly the needs of automotive, industrial and customers applications in terms of performance and safety. Its innovative multi-core architecture, based on up to six independent 32-bit TriCore™ CPUs at 300 MHz, has been designed to meet the highest safety standards while increasing the performance at the same time. Using the AURIX™ scalable platform, developers will be able to implement applications like motor control and drives, PLC or any other automa tion application. Developments using AURIX™ not only require less effort to achieve the SIL/ IEC61508 standard based on its innovative safety concept and multiple HW safety features . Specially thanks to its state-of-the-art safety features, the new Aurix™ TriCore enables systems to achieve the highest safety level up to ASIL-D. Furthermore, AURIX™ has enhanced communication capabilities to support communication between CAN, LIN, FlexRay and Ethernet buses.
Key features:
Best-in-class real-time performance: up to six TriCore™ with up to 300 MHz per core and DSP functionality
Supporting floating point and fixed point with all cores
Up to 6.9 MB of internal RAM and up to 16 MB of flash
Innovative single supply 5 V or 3.3 V
Iso26262 conformance to support safety requirements up to ASIL-D
Embedded EEPROM
Advanced communication peripherals: CAN FD, LIN, SPI, FlexRay, Ethernet
Key benefits:
High scalability gives the best cost-performance fit
High integration leads to significant cost savings
High integration leads to reduced complexity
Innovative supply concept leads to best-in-class power consumption
Click & check below the complete microcontroller portfolio of Infineon: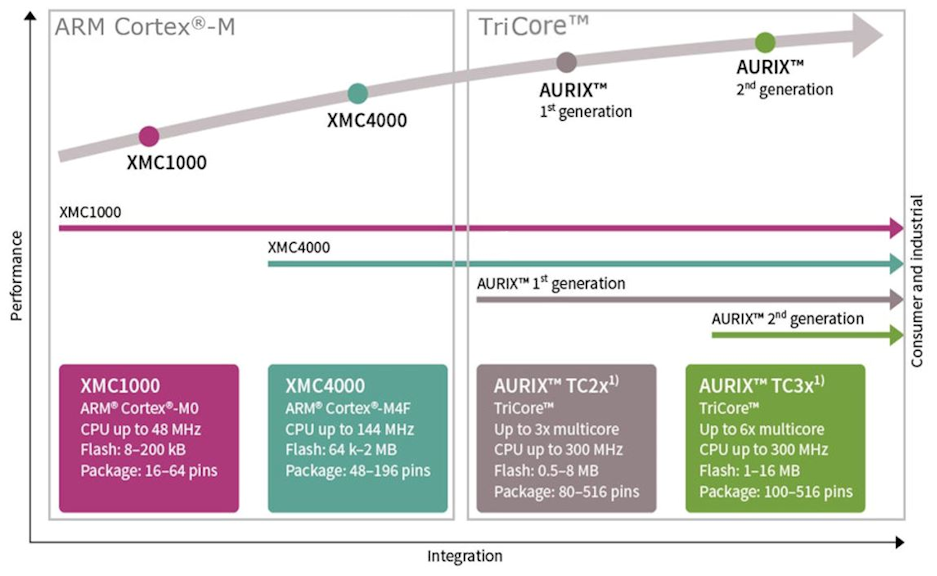 Highlights
NEW! Microcontroller Finder - Find the matching product for you!
Ready to find the right microcontroller for your application? Infineon´s Microcontroller Finder is an easy to use online tool for finding, comparing and buying microcontrollers. Select your requirements from the left side Microcontroller Finder widget and hit the "Find" button to view matching products and the greatest deals.
The Beast! New Certified Automotive In-Cabin Wireless Charging Solution.
The  most advanced in the market with CISPR-25 Class 4 and Qi certifications
The Beast wireless power transmitter evaluation module is a high-performance, easy-to-use development system for the design of automotive in-cabin wireless charging solutions. The AURIXTC21SCTOBO1 system supports all the basic functions of a Qi-compliant, wireless charger for automotive applications. Smartphones with proprietary fast charge capability are also supported. Additional features and future standards changes can be supported by the easy-toupgrade software
Click here to get more information on THE BEAST
New brochures available: "Semiconductor solutions for hybrid electric and electric cars" and "Automotive application guide"
Aurix™ TC399 development board in action!
In this demonstrations XAIN presents how users can delegate access rights to the vehicle, using XAIN´s delegation solution: XAIN embedded. Combined with an Infineon AURIX development board the technology shows how secure data sharing and access control policies can be applied to connected cars & autonomous vehicles.
Watch the Aurix™ TC399 together with XAIN's embedded client here.
AURIX™ 32-bit microcontrollers for automotive and industrial applications
AURIX™ addresses CAV (Commercial and Agricultural Vehicles) requirements and challenges
AURIX™ is Infineon's brand-new family of microcontrollers, designed to precisely meet the needs of the 24–60 V industry in terms of performance, memory, scalability, safety and security.
Its innovative multicore architecture supports the latest trends in connectivity, such as Ethernet and CAN FD, as well as safety (IEC 61508/ISO 25119/ISO 26262) and security.
While supporting a high performance, the innovative supply concept with integrated DC-DC converter leads to best-in-class power consumption. The scalable AURIX™ family leads to the most optimized cost-performance application fit.
Evolution of Infineon's 32-bit TriCore™ Microcontroller
In 1999, Infineon launched the first generation of the AUDO (AUtomotive unifieD processOr) family. Based on a unified RISC/MCU/DSP processor core, this 32-bit TriCore™ microcontroller was a computational power horse. And the company has evolved and optimized the concept ever since – culminating in what is now the fifth TriCore™ generation.
With its high real-time performance, embedded safety and security features, the TriCore™ family is the ideal platform for a wide range of automotive applications such as the control of combustion engines, electrical and hybrid vehicles, transmission control units, chassis domains, braking systems, electric power steering systems, airbags and advanced driver assistance systems. TriCore™-based products also deliver the versatility required for the industrial sector, excelling in optimized motor control applications and signal processing. Infineon's broad product portfolio allows engineers to choose from a wide range of memories, peripheral sets, frequencies, temperatures and packaging options. And all this with a high degree of compatibility across generations. The TriCore™ success story continues with the introduction of the AURIX™ multicore family. AURIX™ combines easy‑to‑use functional safety support, a strong increase in performance and a future-proven security solution in a highly scalable product family.
The new AURIX™ family members are manufactured in a 65nm embedded Flash technology designed for ultimate reliability in harsh automotive environments. Furthermore, the dual frontend concept ensures continuous supply. As was the case with previous generations, safety software is also available to help manufacturers meet SIL/ ASIL safety standards, as well as AUTOSAR libraries which Infineon has been developing since 2005.
How to unbundle a product number:
Training
32-bit: Tricore®
32-bit: XMC4000/XMC1000®
16-bit: C166, XC166
Operating system and Applications
Applications
Access to complete AURIX™ technical documentation including data sheets, app notes, etc.: