Galvanic Isolated Gate Driver
Overview
Robust, strong and precise single- and dual-channel, isolated gate driver ICs for SiC MOSFETs, GaN HEMTs, MOSFETs, and IGBTs

EiceDRIVER™ isolated gate drivers are designed for applications that require high performance and state of the art robustness, for example, solar inverter, EV charger, industrial drives, automotive, ESS, UPS, server and telecom SMPS.
The isolated gate drivers offer up to 18 A output current, short propagation delay and delay matching (7 ns), 300 kV/μs CMTI, and wide range of gate voltage (40 V) to enable bipolar power supply with negative gate voltage. Perfect for state-of-the-art SiC MOSFET and GaN switches.
The EiceDRIVER™ Compact and Enhanced families are some of the most notable isolated driver families. EiceDRIVER™ Compact are easy-to-design simple isolated gate drivers with 2-level slew-rate-control and Miller clamp functions in small package like DSO-8. EiceDRIVER™ Enhanced offers advanced features, such as short circuit protection (DESAT) and soft-off, Miller clamp, and I2C-configurability of multiple parameters for rapid prototyping and conditional monitoring, enabling predictive maintenance.
EiceDRIVER™ isolated gate drivers are based on magnetically-coupled coreless transformer (CT) technology, which provide signal transfer across the galvanic isolation. Thanks to the CT technology, we offer function, basic, and reinforce isolation, with UL 1577 (VISO = 5.7 kV) and VDE 0884-11 (VIORM = 1767 V) certification. The functional isolation reaches up to 2300 V, which is suitable for the 2kV CoolSiC™ in 1500 V DC application.
Select one of our product groups for detailed information
Highlights
Advanced Protection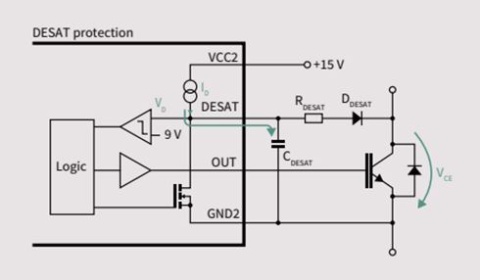 Reliable short-circuit detection via accurate desaturation (DESAT) detection circuits (current source and comparator) protects the power switches from damage during short-circuit condition
Soft-off for short-circuit current protection to lower collector-emitter voltage overshoot
Built in short-circuit clamping limits the gate voltage during short circuit
Active Miller clamp protects against parasitic turn-on due to high dV/dt
Key Features
Main Benefits

18 A rail-to-rail output current
≥ 300 kV/µs CMTI
Active Miller Clamp
Short-circuit protection and soft turn-off
Two-level slew-rate control (SRC)
Short propagation delay matching 7 ns
40 V Maximum Output Supply Voltage
I2C-configurability of multiple parameters
VDE 0884-11 certified reinforced isolation
Full isolation barrier (CT) on the input chip
Available in 300 mil wide body package with 8 mm creepage, 150 mil and 5x5 mm LGA package

Faster turn-on with lower losses
Higher switching frequency and longer lifetime
Prevent parasitic turn-on
Fast protection for IGBT and SiC MOSFET
Optimize gate resistors for both EMI and efficiency
Shorter deadtime for higher efficiency
Enable bipolar power supply with negative voltage
Rapid prototyping and conditional monitoring, enabling predictive maintenance
Tested for 20 years lifetime with safety factor
Higher reliability even after failure
Variants package options for different application requirements
This might also be of interest for you