XC88x-Series (Industrial & Multimarket)
Details
The XC88x-Series expands infineon's 8-bit XC800 microcontroller (MCU) family to provide more scalable performance and up to 32 KB Flash memory for cost-sensitive industrial applications. Operating at up to 24 MHz and equipped with a 16-bit vector computer XC886/XC888 MCUs offers 16-bit performance at 8-bit costs.
Key features:
Dedicated for motor control
16-bit Vector Computer (MDU+CORDIC) for Field Oriented Control
10-bit ADC with high accuracy (8-channels). Fast conversion in 1 µs.
Capture/Compare Unit (CCU6) dedicated for flexible PWM signal generation for any kind of motor control
Multi CAN up to 2 CAN nodes
3 independent capture/compare timers with up to 4 PWM channels
Background E²PROM emulation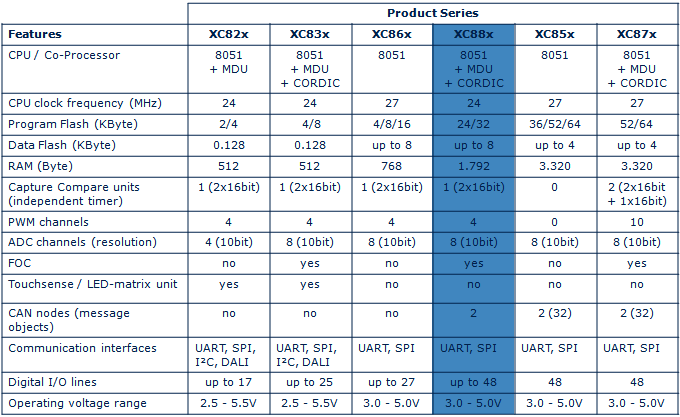 Tools & Software
Embedded Software Solutions
XC800 Development Tools & Software
All the latest DIPs are available for FREE download on the related Product web page in tab "Tools&Software"/"Development Tools".
Company
Name and
Weblink
Product
Name
Description

DAVE™ (Version 2) – Legacy home
DAVE™ (Version 2) – Legacy
DAVE™ version 2 is the well established Digital Application Engineer from Infineon Technologies supporting XC800, C166, XC166, XE166, XC2000, and the TriCore AUDO family.
Videos
Microcontroller Mediacenter