eesy innovation introduces co2go®: the small and portable CO2 traffic light enabled by Infineon's XENSIV™ PAS CO2 sensor
eesy-innovation launches an easy-to-use consumer CO2 sensor to improve health and mental well-being
Eesy innovation introduces co2go ®: the small and portable CO2 traffic light enabled by Infineon's XENSIV™ PAS CO2 sensor
eesy-innovation launches an easy-to-use consumer CO2 sensor to improve health and mental well-being.
In the light of the COVID-19 pandemic and overall increased health concerns, co2go ® is the answer to a growing need and demand for CO2 sensors in the end user market space. The innovative mobile CO2 sensor, developed by our Associated Partner eesy innovation, is able to measure the levels of CO2 indoors wherever you are. The co2go ® may be easily linked to a smartphone or laptop, and it offers transparency through information about the quality of the air in your immediate surroundings - enabling you to optimize your health and mental well-being. The CO2 level is indicated through a traffic light display on the device itself. Additionally, a dedicated Desktop App is available via the connected laptop.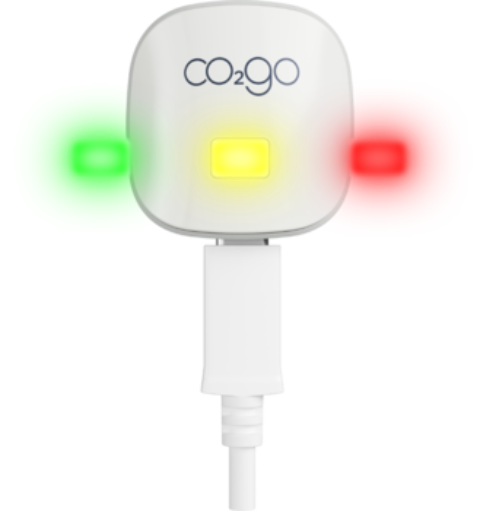 The co2go ® device is easy-to-use and enables consumers to protect themselves from an invisible hazard in the air – heightened CO2 levels. This sensor can be used wherever there are people gathering in a closed space, such as classrooms, offices, meeting rooms, restaurants, or simply at home.
Unlike previous CO2 devices that use an indirect measurement method like electrochemical methods (EC), infrared light (NDIR) or equivalent carbon dioxide (eCO2), co2go® uses the superior technology of Infineon´s new XENSIVTM PAS CO2 sensor and can quantify CO2 levels directly through photoacoustic spectroscopy (PAS, find more information here).
In comparison to products available before and thanks to Infineon's innovative sensor technology, the co2go® features an outstanding measurement accuracy with a very small footprint. Previous size, performance and cost restrictions could be eliminated. This technological breakthrough paved the way to the mobile small form factor for an everyday, personal, and portable health assistant device. Learn more about co2go and check out the video below.
co2go is now available on various platforms and online, find more information here: www.co2go.eu