Nisshinbo Micro Devices Inc. provides a micro-module of complete radar sensing solution
embedding Infineon's XENSIV™ radar sensors
Microwave Business Headquarters of Nisshinbo Micro Devices Inc. (NISD) has contributed to manufacturing in various fields of microwave components for over 60 years since the establishment of their company. With the rapid innovations in manufacturing, microwave applications are spreading from satellite communications and radar into new fields such as sensing and medical treatment. NISD is combining the microwave technologies that it has cultivated over many years with advanced semiconductor technologies to provide robust support for customers' product development to meet the market's emerging requirements.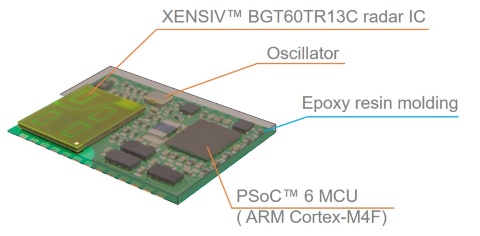 NISD has potentially developed the world's smallest 60 GHz millimeter wave smart sensor micro-module, which embeds Infineon's XENSIV™ BGT60TR13C radar MMIC and PSoC™ 6 microcontroller. NISD uses epoxy resin molding technology for packaging to create one of the smallest 60 GHz Radar System-on-Module. In addition, the signal processing functions can be embedded, so engineers can adopt them without having to develop complex algorithms by themselves.
60GHz smart sensor micro-module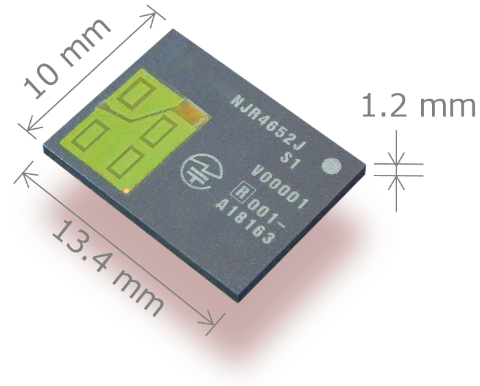 The module could be the world's smallest-class sensor module, certified with Radio Act approval as a stand-alone module. Infineon's XENSIV™ BGT60TR13C radar MMIC and PSOC™ 6 microcontroller for RF control and signal processing are built-in an IC-like ultra-compact package of 10 x 13.4 x 1.2 mm.
Moreover, a Smart Entrance Counter Solution and Presence Detection as a turnkey solution, provided by Infineon, are available.
Furthermore, NISD is also developing human vital sensing and gesture and motion detection as a complete solution.
Application examples:
Portables wearables, multimedia devices, gaming and VRs, smart home appliances for consumer
Industrial robotics, building automation, service robotics for Industrial
NISD at a glance
Founded in 1959 as NJRC, and Established in 2022 as NISD
Headquarters in Tokyo, Japan
Factories in Saitama and Saga prefecture in Japan and Lamphun in Thailand
2,164 employees (unconsolidated)
NISD has over 60 years of experience and technology know-how in microwave technology by supplying microwave products in a wide range of categories such as satellite communication components and electron tubes for radar
Over 30 years experience in radio-sensor module's and solutions' development; and over 30 million devices supplied worldwide