Commercial, construction and agricultural vehicles (CAV)
Overview
The right terrain and technologies for greater efficiency

As a supplier of semiconductor and system solutions, Infineon constantly develops innovative and efficient solutions. Keeping up with the latest market trends in commercial, construction, and agriculture vehicles (CAV), requires increasingly eco-friendly products and solutions. Especially for CAVs that must operate at the highest possible availability and the lowest possible total cost of ownership (TCO).
Semi- and fully-autonomous technologies make CAVs safer for operators while also being more efficient and precise. Machines that run 24/7 with no downtime. Tractors that independently navigate their surroundings and react based on data they collect. Such machines literally leave fully human-operated systems in the dust. At the same time, electrification is becoming an increasingly attractive option for CAVs. Manufacturers rely on electric drivetrains to comply with the latest emissions and energy regulations. At the same time, operators use electrification to boost higher process efficiency and yields.
From driver assistance to automated driving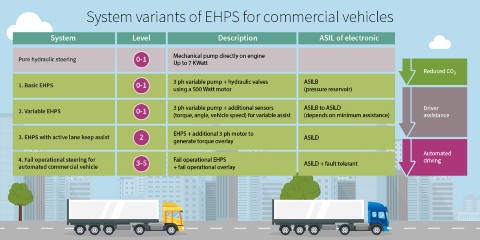 The effects of electrohydraulic power steering (EHPS) on CO2 reduction are remarkable. The system provides, on-demand, the exact amount of oil and pressure required to operate a hydraulic steering system of an industrial vehicle. The benefits of switching from full hydraulic steering to EHPS result in fuel savings of 0,9 to 1,2% with a CO2 reduction of 6 to 11g/km.
At the same time, basic EHPS has lower safety requirements com-pared to more complex steering systems. Because they require level 2 and higher automated driving systems, EHPS and full-electric power steering (EPS) are today, and will remain, state of the art.
Discover the resources you need to start your design. Infineon offers a broad range of semiconductor solutions for basic EHPS (level 0-1) and 24V EPS systems with active steering (level 2) to enable lane keep assist which helps to reduce CO2 and increase the safety of transportation. Our solution for 24V EPS for fail-operational steering enables highly automated commercial vehicles (level 3-4) up to fully autonomous driving for CAVs.
How electrification is changing the commercial vehicles business - key components for electric drive train and auxiliary applications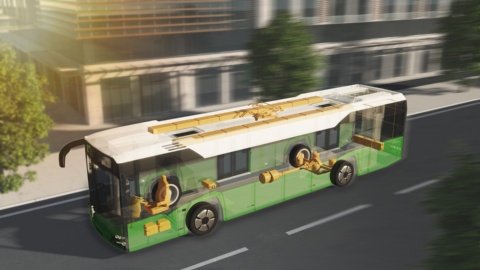 Factors like compactness and efficiency along with safety and robustness are key for reliable powertrain inverters for bus, truck and agricultural vehicle designs. The same is true for auxiliary applications like harvesters, chain saws, or air conditioning systems. Benefit from our extensive application know-how and comprehensive product portfolio of high-quality semiconductors, including IGBT modules like PrimePACK™, HybridPACK™ drive modules, discrete IGBT and gate drivers. Furthermore, Infineon CoolSiC™ technology can also be considered for e-CAV applications, with devices that can switch at a much higher frequency.
24V Battery Switch
It's absolutely crucial for a commercial, construction and agricultural vehicle (CAV) to be able to shut off entirely by itself, that's why it needs a master switch to cut off the battery. In particular, this feature is becoming increasingly essential as heavy-duty trucks and other CAVs come equipped with a growing number of autonomous and semi-autonomous driving capabilities. Here: Smaller is better. As a small battery disconnect switch solution is easier to integrate, it costs less, and it requires less development effort.
Find out more about our cost-efficient cutoff system solution based on Infineon's low ohmic MOSFETs which leads to an on-state resistance of the entire battery disconnect switch is less than 160 uΩ, from terminal to terminal. Discover the plug and play solution of our 24 V ADR Switch design of a 24 V battery master switch for trucks as required by the ADR regulation.
48V supply domain implementation in truck market

The main goal is to reduce CO2 emissions in a cost-effective way, based on the new EU CO2 regulation for 2025, this means a 15% reduction compared to 2019. The main configuration is a P0 (belt-driven) with a 48V starter-generator for energy recuperation, similar to a mild hybrid electrical vehicle. In addition the 48V network will be used to drive high current applications moving either from the 24V domain or mechanically driven.
This implementation will mainly take place in long haul trucks.
Motor control - robust designs and with protective functions for CAVs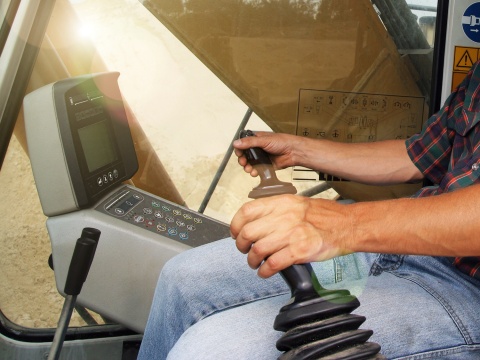 No matter which kind of brushless DC, brushed DC or unidirectional motor control for trucks and agricultural vehicles has to be extremely robust and come with the diagnostic and protective functions required in CAVs. But that's not all – the motor control industry faces growing pressure to find new ways of, among other things, increasing energy efficiency. With software assuming a central role, the systems themselves are becoming ever more complex.
At Infineon, you'll find the right innovative motor control solutions in reliable German-engineered quality. Such as our high-quality 12V and 24V integrated or discrete solutions for all three CAV motors, as well as reference designs and support from experts to ensure your design is a resounding success – and in line with your budget.
Learn more about our motor control for trucks and agricultural vehicles components by selecting the relevant motor type below.


Unidirectional control of DC motor for trucks and agricultural vehicles
Brushless DC motor control for trucks and agricultural vehicles
Brushed DC motor control for trucks and agricultural vehicles
Videos
Training
Webinars
Gain a deeper insight into Infineon's sensors, microcontrollers and memories that serve one of the megatrends in the commercial, construction and agricultural vehicle (CAV) market: electrification.
Key Takeaways:
1. Learn how Infineon responds to the trends and challenges in the electrification of the CAV market
2. Explore Infineon's power modules for hybrid and electric solutions as well as our sense and actuate portfolio
3. Examine how we serve applications with increasing demand of semiconductors in the industry