Fuel-Cell Electric Vehicle (FCEV) Drivetrain System
Overview
Please choose a subcategory
Revolutionary fuel-cell electric vehicle technology with Infineon power solutions
The global reduction of CO2 emissions and the successful transition to new types of primary vehicle energy are two of the biggest challenges facing climate change on our planet today. At Infineon, we are convinced that hydrogen fuel-cell technology will play an important role in the future of transportation as a complementation to pure battery electrical traction. The decarbonization of both the energy and automotive industries is key when it comes to reducing CO2 emissions. In other words, we need to move away from CO2-emitting energy sources and begin the phase-out of fossil fuels.
Infineon supports next-generation fuel-cell electric vehicle drivetrain systems by helping developers meet current and future environmental legislation and customer requirements. At the core of electric vehicles fuel-cell technology is the hydrogen fuel-cell stack. Our power semiconductor solutions and smart control ICs enable multi-target optimization for system cost reduction, increased power density, higher application efficiency, and modular design. We offer dedicated software and design house partners, reference designs, boards, and layout resources to speed up your development process.
Products
Fuel-Cell Drivetrain

Fuel-cell DC/DC boost converter

The DC/DC boost converter enables the energy flow between the Fuel-cell stack, the traction inverter and the high-voltage battery. Infineon's portfolio will help you design very compact high efficient DC/DC converters.

Fuel-Cell Drivetrain

Fuel-cell electric air compressor

The high efficient electric compressor directs air as an oxidant to the fuel cell cathode. Infineon's portfolio of CoolSiC™ power ICs will help you to design very compact and high efficient air compressors.

Fuel-Cell Drivetrain

Fuel-cell control unit (FCCU)

The Fuel-cell control unit (FCCU) is responsible for the overall process control of the entire fuel cell system. Check out our application page and learn more about our chip-set offering for FCCUs.

Fuel-Cell Drivetrain

Main inverter

The main inverter controls the electric motor and is a key component in electric cars, as it determines the driving behavior. Semiconductors transform the direct current from the battery into the alternating current that drives the motor.

Fuel-Cell Drivetrain

Auxiliary inverter

Discover Infineon's broad range of dedicated 12V and 24V auxiliary inverter solutions. Whatever your FCEV needs are, we have the know-how and components to realize them to your specifications.

Fuel-Cell Drivetrain

Battery management system (BMS)

Battery management systems (BMS) are electronic control circuits that monitor and regulate the charging and discharge of batteries.

Fuel-Cell Drivetrain

HV-LV DC/DC converter

The auxiliary HV-LV DC/DC job is to enable the bi-directional energy flow between two electrical subnets.
Hydrogen fuel-cell vehicles are an economically interesting alternative to purely battery-operated electric vehicles when longer ranges and shorter refueling times are required. Better yet, this applies not only to long-haul trucks but also to smaller delivery trucks and light vehicles.
At the core of the fuel-cell electric drivetrain system is the PEM (polymer electrolyte membrane) hydrogen fuel-cell stack, which relies on a reaction of hydrogen and oxygen to generate the energy needed to propel the traction motor. Additionally, a lithium-based battery is used as an intermediate storage unit to cover peak loads during acceleration, as well as energy recovery during braking. It is also required to cover longer distances in cases where the fuel-cell stack is used as a range extender. Semiconductors, such as those from Infineon, are also an important component in the makeup of fuel-cell vehicles and play a vital role in all phases of energy conversion.
Compared to battery-operated electric vehicles, fuel-cell electric vehicles contain the following additional sub-systems:
Super-insulated, double-walled 350 to 700 bar hydrogen tank(s)
Hydrogen ejector(s) or hydrogen pump(s)
Fuel-cell pump(s) and fan(s) for thermal and water management
Pressure regulator(s), valve(s), and injector(s)
Fuel-cell monitoring (voltage-, pressure-, temperature-, leakage- and concentration surveillance)
Fuel-cell control unit for superimposed process control
Infineon Fuel Cell Electric Drivetrain Solutions
Fuel cell vehicles are in fact a sensible complementary choice to electric battery-operated vehicles, as both technologies offer solutions to the immediate challenge of CO2 reduction. The future success of hydrogen fuel-cell technology, however, largely depends on the widespread establishment of hydrogen refueling stations and the total cost of vehicle ownership for the consumer. Infineon semiconductor solutions allow for minimum power losses and maximum overall efficiency in the manufacturing of green hydrogen production and consumption and can help pave the way for hydrogen fuel cell technology in the automotive and energy industries.
This is explained below on the basis of the individual system components which play a crucial role in the operation of vehicle fuel-cell technology:
Training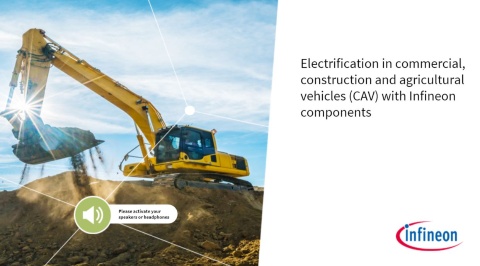 In this training, you will:
to know about the market trend "Electrification" in commercial, construction, and agricultural vehicles (CAV)
Understand the importance of customer enablement and how Infineon serves eCAV
In this training you will:
Get to know Infineon's IPOSIM tool, specifically for an automotive electric vehicle inverter
Discover the steps involved in simulating different parameters and comparing the results of different Infineon products to see which is the best fit for your application
Webinar
To fully exploit the potential of hydrogen, solutions must be found to the challenges of production, storage, transport and use. Learn how the different systems are structured and how they work together. Gain insights into different production and consumption applications and learn about Infineon's best-in-class semiconductor solutions.