KIT_ATV_24GHZ_RADAR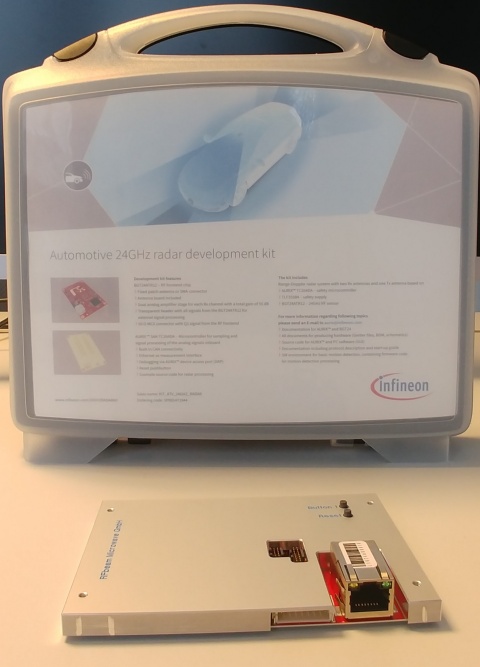 Based on the Infineon AURIX™ and MMIC BGT24A families
This development kit allows customers to implement and test 24GHz radar applications as Doppler movement detectors, FSK or FMCW range/position measurement. It comprises a BGT24A transceiver MMIC family, e.g. BGTA24ATR12, and an AURIX™ 32-bit radar microcontroller family, e.g. SAK-TC264DA- 40F200, for high-performance signal processing. The device has an FFT acceleration engine and extended memory for radar image storage.
The CPU is already pre-programmed with a sample application that samples up to four of the transceiver chips IF channels. The measured results are transmitted via a 10/100 Mbit ethernet connection. The enclosed firmware supports transmission via ethernet and data display on a Windows PC. This platform is therefore a good starting point for proprietary applications.
The development kit includes 10° x 60° patch antennas.
Development Kit Features:
BGT24ATR12 – RF frontend chip
Fixed patch antenna or SMA connector
Antenna board included
Dual analog amplifier stage for each
Rx channel with a total gain of 55 dB
Transparent header with all signals
from the BGT24ATR12 for external signal processing
50 Ω MCX connector with Q1 signal
from the RF frontend
TC264DA – microcontroller for sampling and signal processing of the analog signals onboard
Built-in CAN connectivity
Ethernet as measurement interface
Debugging via AURIX™ device access port (DAP)
Reset pushbutton
Example source code for radar processing