KIT_A2G_TC377_LITE_GTW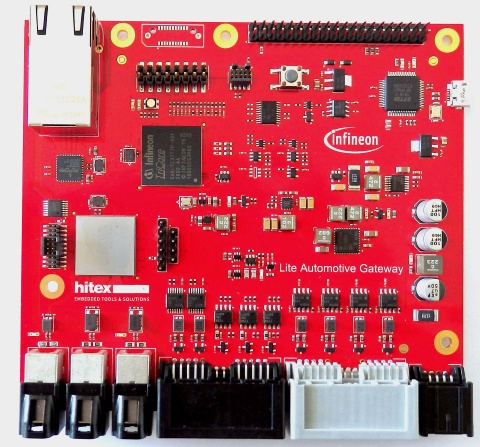 The Lite Gateway offers a wide range of application use cases. With the AURIX™ TC377 in combination with
Broadcom's BCM89559G Switch with integrated 1000Base-T1 PHY future In-Vehicle Networks can be addressed
and evaluated.
AURIX™ TC3xx does not compromise on security. The second generation of the programmable Hardware Security Module (HSM) is available across the family for secure onboard communications and to prevent hardware manipulation such as tuning.
Summary of Features:
AURIX™ TC377 with one Gigabit Ethernet Ports
Infineon Supply IC's TLF30682QVS01, TLS4125V50, TLE4274GSV33, IR3883
Infineon CAN transceivers TLE9250VSJ
Infineon LIN transceiver TLE7258SJ
Flexray transceiver TLE9222PX
Broadcom BCM89559G Switch
BCM89610 Ethernet PHY