bitsensing In-cabin Board
bitsensing MOD620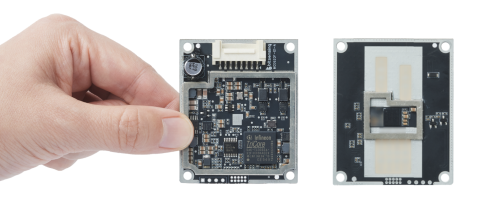 bitsensing MOD620 reliably detects in-car passenger presence and location. It can also detect in real-time the presence of a child left in a car, even when the car is shut down and locked as well as monitor the vital signs of occupants and send an alert if there are any abnormalities.
The 120-degree field of view combined with the customizable detection range up to 2.5m provides an increased level of performance. Privacy concerns are also eliminated with the MOD620 as it does not rely on cameras for presence detection.
The rearrangeable antenna in the MOD620 allows for customization in channel length compensation, Field of View, and matching circuits for transmitters and receivers. Bitsensing's unique expertise in customizable antenna design allows for a quick and efficient process in matching specific in-cabin requirements for any vehicle.
The MOD620 is a customizable cost-efficient radar that works in high-speed cars, day or night, with no interference to seatbelts.
Key features
Infineon's AURIX™ TC356 ADAS
Infineon's XENSIV 60GHzMMIC
Max Range: 0.1-2.5m
Range resolution: 5cm
FoV: Azimuth: 120deg; Elevation: 60deg
Angle Resolution: 20 deg
Dimension: 55x45x14mm
Dedicated applications
The device is targeted for short-range, in-cabin Radar applications like:
Presence & localization detection
Presence, localization & classification detection
Vital signs detection
60GHz Occupancy
In vehicle occupancy sensor for Seat Belt Reminder (SBR) applications based on 60GHz sensor MMIC
Occupancy monitoring SW for vehicle seat monitoring:
Each seat occupancy state
Count number of the passengers in the vehicle
Person size classification
Detecting forgotten child left in the vehicle
Vital signs monitoring
Respiration rate and heart rate monitoring using our 24GHz sensor MMIC
Vital signs monitoring SW for monitoring respiration rate, heart rate, and heart rate variability using a 24 GHz radar MMIC.