CoolMOS™ Family Selection Guide
Overview
Select of the most suitable CoolMOS™ SJ MOSFET for your application
Here we provide you help in the selection of the most suitable CoolMOS™ power MOSFET for your application. The applications have been divided into high power, low power and automotive, because each segment comes with different requirements.
Details
CoolMOS™ for high power SMPS, low power SMPS and automotive applications
CoolMOS™ for high power SMPS (>150W)
Pushing the edge of silicon MOSFET performance
In high power SMPS, high voltage superjunction MOSFETs address applications such as server, telecom, TV, PC power, solar, UPS and industrial power supplies. In 2017, we recommend to our customers the design-in of the CoolMOS™ C7 and G7, CFD2 as well as P6/P7 product families, which come with the most attractive balance of performance versus price.
CoolMOS™ for low power SMPS (<150W)
Efficiency accessible at an attractive price
In low power SMPS, high voltage superjunction MOSFETs address applications such as smartphone/tablet chargers, notebook adapters, TV sets and LED lighting. Increasingly, customers replace standard MOSFETs by superjunction MOSFETs in order to benefit from higher efficiency and an attractive cost-down roadmap going forward. In many designs, a trade-off decision between highest efficiency, good ease-of-use (typically EMI) and an attractive cost position needs to be made. The CoolMOS™ portfolio for low SMPS offers a number of choices for power engineers. For new designs in low power SMPS design Infineon recommends CoolMOS™ P7, P6 and CoolMOS™ CE.
CoolMOS™ for automotive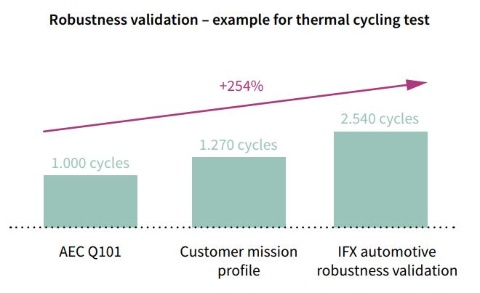 CoolMOS™ on the fast lane in automotive applications
After launching the first series of high voltage automotive MOSFET, the 600V CoolMOS™ CPA series, Infineon has launched its second generation of market leading automotive qualified high voltage MOSFET, the 650V CoolMOS™ CFDA series. The 600V CoolMOS™ CPA portfolio and the broad 650V CoolMOS™ CFDA portfolio provide all benefits of a fast switching superjunction MOSFET while fulfilling the enhanced reliability requirements for automotive applications realized with special screening measures in front end and back end as well as qualification compliant to AEC Q101.