Overview
Cobots, or collaborative robots, work outside the limitation of a safety cell, in direct interaction with real people. This setup requires a precise set of features. Cobots are designed for safe collaboration with humans while maintaining high productivity. Infineon provides the right semiconductor solutions for smart connectivity and reliability, advanced sensing technologies, quick reaction time, and embedded modular safety functions (ISO TS 15066). Our products support cobot designs up to the highest safety levels.
Design with us your subsystem:
Training
Service robots increase our effectiveness, but require sophisticated hardware to enable safe operation. Stay tuned to see what Infineon offers!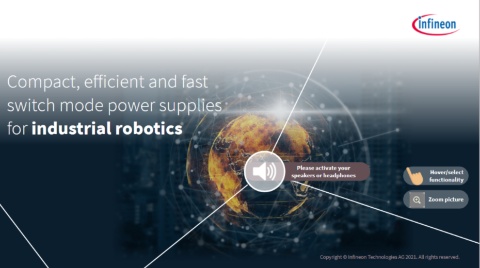 Whether you need a power supply, motor drives, sensors or customized safety and security solutions, Infineon is your one-stop shop for all robotic applications.
The focus of this training is switch mode power supply (or SMPS) techniques used in industrial robotics, e.g. Cobots.