1-phase string inverter solutions
Overview

1-phase string inverters perform power conversion on series-connected photovoltaic panels, usually; these inverters are rated around a few kilowatts up to 15 kilowatts. String inverter typically relies on two-stage power conversion. In general, most of the inverter designs are transformer less or non-isolated. First, the DC-DC stage converts variable DC voltage into a fixed DC voltage, at the same time ensures maximum power been extracted from PV panel via MPPT (Maximum Power Point Tracking) technique.
DC-AC stage converts DC power into grid compatible AC power. Either 2-level or innovative topologies like HERIC, H6 & Multilevel are preferred in this stage. In particular, innovative topologies is widely used for its higher efficiency, lower system cost, size, and weight. In general, 1-phase string inverter is connected to 600 V PV array, usually, HERIC and H6 topology is preferred. The size and weight of the inverter highly depend on the AC filter and cooling system, the higher switching operation is desirable to reduce the size and cost of the system.
Infineon offerings for designs up to 6 kW
Products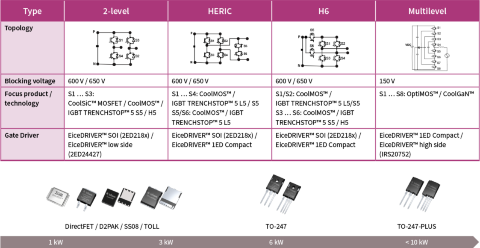 Infineon's solutions support inverter designs for a long lifetime, with highly efficient power conversion, accurate current measurement, and low output distortion.
Find the right product combination to design your 1-phase string inverter power stage here:
In the residential market, the trend towards monitor the real-time system information from anywhere using an internet connection to simplify operation and maintenance service. In addition, the inverter manufacturer has to fulfill the personal and property safety standards by integrating the rapid shut down feature. We see a clear trend towards increasing demand for the power optimizer at the module level.
Another trend is seen towards inverters with multi-level topologies. Such inverters are able to utilize low voltage OptiMOS™ MOSFET switches based on trench topologies that offer very low RDS(ON) and body diode recovery charge Qrr. These reduced conduction losses combined with reduced switching losses make it possible to reach higher efficiency compared to traditional inverters. The drawback is the greater level of complexity necessary to realize a multi-level design compared to traditional topologies and the higher number of switches and isolated gate drivers needed. However, at a certain power level in the 3 kW to 5 kW range, the benefits of the multi-level design such as the reduction in size and weight and higher efficiency and power density, justify the added complexity.
Simulation
Innovative 5-level hybrid inverter topology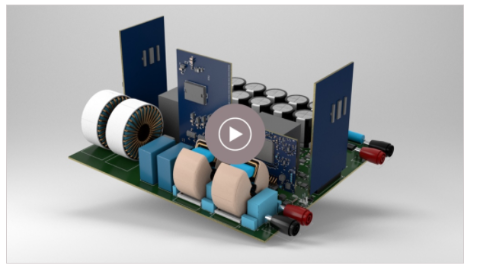 Achieve ultra-high efficiency peaking at over 99% and providing >98.5% efficiency over a wide range of load with minimal power losses distributed among SMD MOSFETs. This enables operation at maximum load without heatsinking or the need for forced air cooling.
In order to prove the benefits in real life, Infineon designed the EVAL_4kVA_230VAC_5LINV 5-level active neutral point clamped flying capacitor (ANPC-FC) inverter evaluation board. The multi-level inverter is based on 150V OptiMOS™ 5 technology, which has low RDS(on) and Qrr.
This hybrid enables a reduction in size and weight for solar inverters, string inverters, and general-purpose inverters.
Highlights
New whitepaper: Silicon carbide MOSFETs for next-level power density in solar and energy storage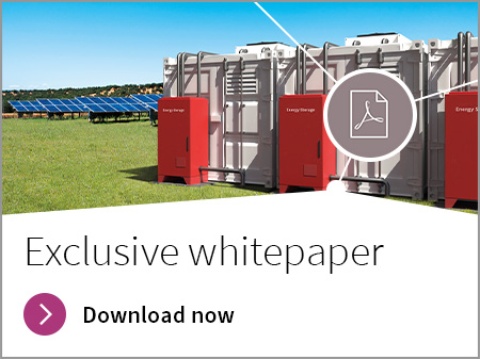 The latest generation silicon carbide semiconductors and CoolSiC™ MOSFETs enable a significant increase in power conversion efficiency in solar power generation systems and associated energy storage. Read more about these applications and how lower loss not only saves energy, but also results in smaller and lighter equipment with lower capital, installation, and maintenance costs.
Application presentation: Exploiting the unlimited potential of Solar energy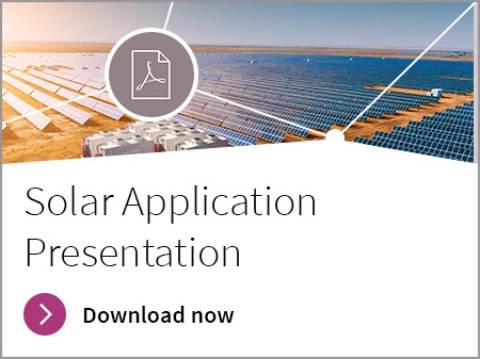 This presentation gives you an overview of topologies, technological trends, and requirements of solar applications. Find out more about our offering for each inverter type – from the microinverter to the central and string inverter. Check our recommendations for your application, and you get your customized module in a five-month timeframe.
On-demand webinar: From solar and wind to energy storage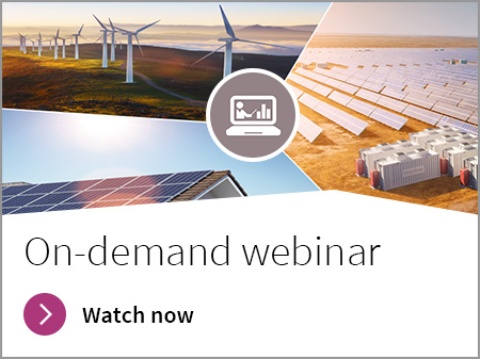 In the webinar, you will gain insight into renewables and the emerging applications of energy storage. Learn more about application trends and requirements, and understand Infineon's solution offerings for these applications.