Power optimizer solutions
Overview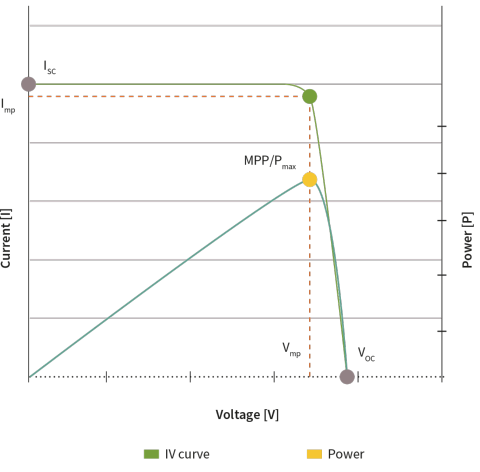 DC-DC power optimizers convert variable DC voltage from photovoltaic (PV) panels to a fixed DC voltage.
This is also referred to as the maximum power point tracking (MPPT) stage. MPPT is a technique used to maximize power extraction under any environmental conditions, including changes in irradiation levels and temperature. MPPT can happen either be conducted directly at and separately for a PV panel through single units installed at each panel or at a preliminary buck/boost stage of an inverter where several photovoltaic panels are connected in series at the input.
Installing a power optimizer on a PV panel also enables a rapid shutdown function (RSF) to be implemented, which is required for residential solar installations in some regions. Stand-alone power optimizers operate outdoors under harsh conditions and so a compact form factor, high-efficiency levels and a long lifetime are crucial success factors for these units.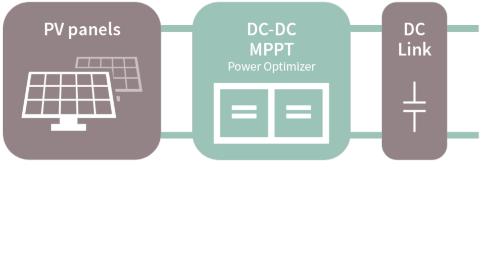 We offer a wide range of products with different packages and technologies, including silicon (Si), silicon carbide (SiC) and gallium nitride (GaN). This enables manufacturers to create optimized, efficient solutions for single-panel and multi-panel micro inverter designs.

We offer the following products for stand-alone power optimizers:
Panel level
< 500 W: For the modular approach were each PV panel is equipped with a Power Optimizer a solution with Infineon's OptiMOS™ MOSFET and 2EDL EiceDRIVER provides the highest performance and lowest form factor.
String level
1-20 kW: Infineon discrete solution such as our Silicon CoolMOS™ and Silicon Carbide CoolSiC™ MOSFETs, HighSpeed3 IGBTs and TRENCHSTOP™ IGBT6 technology, that enables designers to maximize price/performance ratio,.
> 20 kW: Our Easy CoolSiC™ module enables designers to increase the efficiency and lower the weight of the booster stage
Highlights
New whitepaper: Silicon carbide MOSFETs for next-level power density in solar and energy storage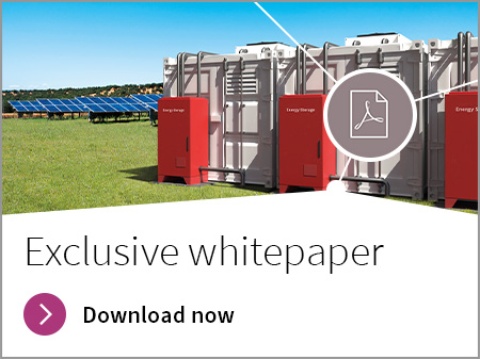 The latest generation silicon carbide semiconductors and CoolSiC™ MOSFETs enable a significant increase in power conversion efficiency in solar power generation systems and associated energy storage. Read more about these applications and how lower loss not only saves energy, but also results in smaller and lighter equipment with lower capital, installation, and maintenance costs.
Application presentation: Exploiting the unlimited potential of Solar energy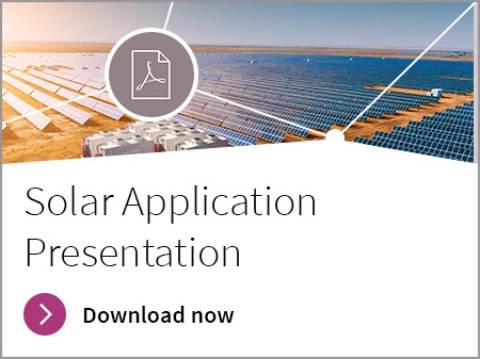 This presentation gives you an overview of topologies, technological trends, and requirements of solar applications. Find out more about our offering for each inverter type – from the microinverter to the central and string inverter. Check our recommendations for your application, and you get your customized module in a five-month timeframe.
On-demand webinar: From solar and wind to energy storage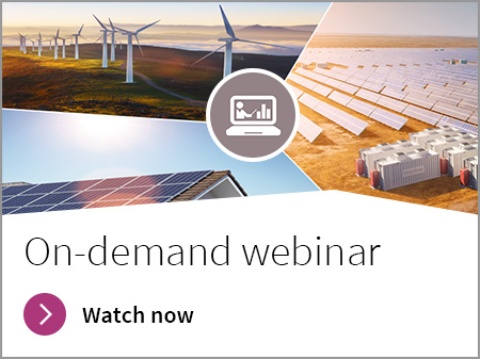 In the webinar, you will gain insight into renewables and the emerging applications of energy storage. Learn more about application trends and requirements, and understand Infineon's solution offerings for these applications.
Videos
Training
Let's learn more about how solar inverters work, from the ones we have in our houses, to the ones that are applied in major factories. We will also see how Infineon innovates in power semiconductors for solar inverter technology and how that can help with reducing costs and time to market.
Take this course to learn about the multilevel inverter demo board, targeting applications where efficiency and power density are critical.