Silicon Carbide CoolSiC™ MOSFETs
Overview
Silicon Carbide CoolSiC™ MOSFET solutions are the next essential step towards an energy-smart world.
Silicon Carbide CoolSiC™ MOSFETs subcategories
Based on volume experience and compatibility know-how, Infineon introduces the revolutionary CoolSiC™ MOSFET technology which enables radically new product designs. In comparison to traditional Silicon-based switches like IGBTs and MOSFETs, the Silicon Carbide (SiC) Power MOSFET offers a series of advantages. CoolSiC™ MOSFET products in 2000 V, 1700 V, 1200 V, and 650 V target photovoltaic inverters, battery charging, energy storage, motor drives, UPS, auxiliary power supplies, and SMPS.
Silicon Carbide CoolSiC™ MOSFET technology represents the best performance, reliability, and ease of use for system designers. Silicon Carbide (SiC) power transistors open up new degrees of flexibility for designers to harness never before seen levels of efficiency and reliability. High voltage CoolSiC™ MOSFET technology has also provided impressive improvements in reverse-recovery characteristics.
Silicon Carbide CoolSiC™ MOSFETs from Infineon provide high efficiency and optimal reliability. Our range of products is available in discrete housing as well as modules in 650 V, 1200 V, 1700 V and 2000 V voltage classes. Our range of CoolSiC™ MOSFETs includes Silicon Carbide MOSFET discretes and Silicon Carbide MOSFET modules. The SiC MOSFET power modules come in 3-level, fourpack, half-bridge, sixpack, and booster configurations.

Infineon Developer Community is available 24x7 for you to connect and network with engineers across the globe. Get help from Infineon support engineers, and expert members to solve your design challenges anytime, from anywhere, in any topic, and in your preferred language.
Highlights
CoolSiC™ MOSFET offers a series of advantages. These include the lowest gate charge and device capacitance levels seen in SiC switches, no reverse recovery losses of the anti-parallel diode, temperature-independent low switching losses, and threshold-free on-state characteristics.
Infineon's unique CoolSiC™ MOSFET adds additional advantages. Superior gate oxide reliability enabled by state-of-the-art trench design, best in class switching and conduction losses, highest transconductance level (gain), a threshold voltage of Vth = 4V and short-circuit robustness. This is the revolution you can rely on.
All this results in a robust Silicon Carbide MOSFET technology, ideal for hard- and resonant-switching topologies like LLC and ZVS, which can be driven like an IGBT or MOSFET with easy-to-use drivers. Delivering the highest-level efficiency at high switching frequencies allowing for system size reduction, power density increases, and high lifetime reliability.
Product line up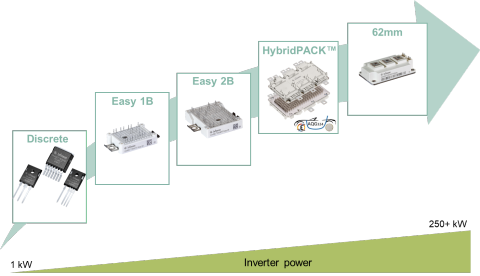 CoolSiC™ MOSFET first products in different housings
TO-247-4pin package contains an additional connection to the source (Kelvin connection) that is used as a reference potential for the gate driving voltage, thereby eliminating the effect of voltage drops over the source inductance. The result is even lower switching losses than for TO247-3pin version, especially at higher currents and higher switching frequencies. CoolSiC™ MOSFET Easy modules offer a very good thermal interface, a low stray inductance and robust design as well as PressFIT connections. While low power ranges can be ideally addressed with the Easy family, medium power inverters of 250+ kW can best make use of the 62mm package. The HybridPACK™ Drive CoolSiC™ MOSFETs are AQG-324 qualified and optimized for high power automotive traction inverters of 180+ kW. It is an easy-to-mount SixPack module for direct water cooling with pin-fin baseplate and supports an efficient and high-volume-optimized assembly process.
The world's first high-performance 1200 V CIPOS™ Maxi SiC IPM in the smallest and most compact package
CoolSiC™ MOSFET based CIPOS™ Maxi IPM IM828 series is the world's first 1200 V transfer molded silicon carbide IPM which integrated an optimized 6-channel 1200V SOI gate driver and 6 CoolSiC™ MOSFETs.
The smallest and most compact package in 1200 V class, IM828-XCC combines a power rating in excess of 4.8 kW with exceptional power density, reliability and performance.

> Discover more information about CIPOS™ Maxi
SiC MOSFET 650 V and 1200 V Gate Driver ICs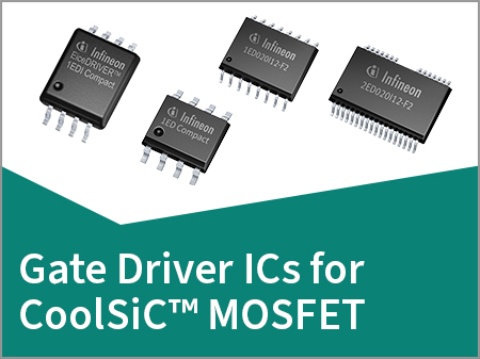 Ultra-fast switching power transistors such as CoolSiC™ MOSFETs can be easier handled by means of isolated gate output sections. Therefore, the galvanically isolated EiceDRIVER™ ICs based on Infineon's coreless transformer technology are recommended as most suitable.
> More about our EiceDRIVER™ ICs for Silicon Carbide MOSFETs
Training
CoolSiC™ MOSFET Webinars
Watch our webinar to discover more about technological positioning of silicon versus SiC and GaN power devices for both high and low power applications.
CoolSiC™ MOSFET Microlearnings