TOLG (TO-Leaded with Gullwing) package
Overview
OptiMOS™ power MOSFETs in TOLG (TO-Leaded with Gullwing) package - for higher thermal cycling on board performance
This package offers the same high current and low profile features as the TO-Leadless (TOLL). The TOLG is compatible with the footprint to the TO-Leadless with the additional feature of gullwing leads for high thermal cycling.
The TOLG allows excellent electrical performance compared to D2PAK 7-pin with ~60 percent board space reduction. This package offers very low RDS(on) and is optimized to handle high currents >300 A.
Thanks to the flexibility of gullwing leads, the OptiMOS™ family of MOSFETs in the TOLG package features excellent solder joint reliability on aluminum insulated metal substrate boards (Al-IMS). This results in 2x higher thermal cycling on board (TCoB) compared to the standard requirements.
Key benefits of the TOLG include high efficiency, lower EMI as well as high power density enabling high-performance and overall system efficiency.

The OptiMOS™ power MOSFET family in the TOLG package is available in a broad portfolio of voltages including 60 V, 80 V, 100 V, 200 V and 250 V. Target applications include: e-scooter, light electric vehicles (LEV) , power tools and battery management system applications.
Find out more and compare our TOLx products - TOLL, TOLT, and TOLG!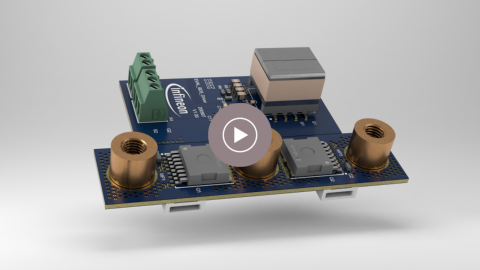 This interactive 3D model showcases Infineon's bidirectional switching board for battery protection featuring OptiMOS™ power MOSFET in TOLG package.
Key features
Key benefits
Key applications

Best in class technology
High current rating >300 A
Low ringing and voltage overshoot
60% space board reduction compared to D2PAK 7-pin
Gullwing leads

High performance capability
High system reliability
High efficiency and lower EMI
Optimized board utilization
High thermal cycling on board performance