Overview
Overcoming technical challenges through the next generation of semiconductor robot technologies
Best-in-class robot hardware components featuring compact motor drives, energy-efficient and long-lasting battery life, advanced sensing capabilities for navigation and secure connectivity to the cloud and users. All features that are key to user-friendly and safe robot designs. Infineon offers a one-stop shop for all the basic components of robot manufacturing needed for autonomous domestic and service robots.
Design your subsystem with us:
Space and energy-saving motor control (motor inverter switches, integrated motor control solutions)
Efficient and fast battery charger with USB-C Charging and wireless charging for robot power supply systems
Comprehensive battery management systems (BMS)
Smart Sensing (Collision avoidance, Object and cliff detection, SLAM navigation and mapping)
Connect users with our Connectivity solutions (WiFi, BT, Industrial interfaces and transceiver)
Security and safety (embedded security offers smart robot solutions for encryption and authentication)
Design your robotic operating system (ROS) solutions around the broadest microcontroller and memory portfolios
Discover Infineon's recommended semiconductor portfolio for intelligent service robotics solutions in our interactive block diagram below.
Highlights
Podcast4Engineers: Home Appliances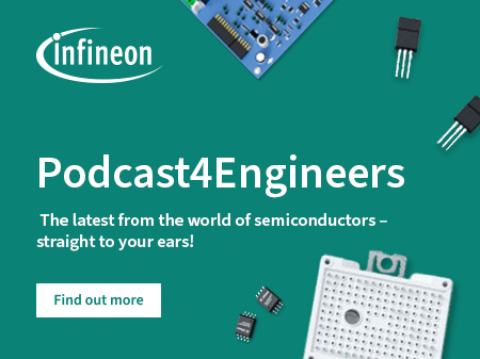 Smartification and electrification aren't just limited to our smartphones and computers anymore; these trends are steadily making their way into our home appliances and the market is booming. But what technologies are driving home appliance innovation and how do semiconductors play a role?
Listen to our latest podcasts to learn more about home appliances and how Infineon technology is powering the smart home of tomorrow.
Inductive Wireless Charging Up To 50 W: Powering Applications You May Not Have Thought About
As more and more portable electronics are looking for ingress-proof designs, inductive wireless charging seems to be the perfect solution for current as well as future market needs. Learn more about the key trends in wireless power transfer and how Infineon´s portfolio can be the best fit for a wide variety of emerging applications.
Training
Service robots increase our effectiveness, but require sophisticated hardware to enable safe operation. Stay tuned to see what Infineon offers!