#MakeIoTwork Podcast
Experience Infineon's world of IoT!
Digitization is currently experiencing an unimagined worldwide push. Smart and connected objects link the real with the digital world, helping us to tackle the major challenges of our time, such as climate change and the growing world population. Intelligent devices are part of many people's everyday lives - both in professional and private environments. The Internet of Things provides the technological basis for exploiting the full potential of digitization. The potential of IoT is well known and undisputed. But how do we actually implement it? How can people and companies benefit from it? In this podcast, I meet with experts from Infineon, partners and customers and discuss with them how we can make IoT work.
12. A common mission drives us forward: Making the IoT secure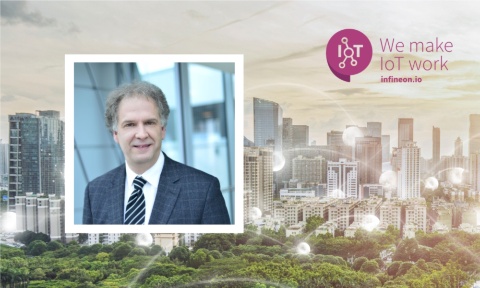 When we speak about making the Internet of Things work, we should always include one essential cornerstone: making the IoT secure. Finding ways to protect sensitive data, intellectual property, and personal privacy is paramount for smart technologies and devices to get adopted widely. However, IoT security is too often overlooked when people start thinking about innovative solutions. Yet we all know: Security is key. To make it really work, the IoT has to be secure. With our ecosystem partners, here at Infineon we do our best to create trust in the digital world so users, enterprises, and organizations can rely on and at the same time unleash the full potential of the IoT, by having the confidence that their personal data, sensitive information, or industrial IP remains safe and unaltered.
That's why we are delighted to have Günther Fischer as guest in this episode. Günther works as a Senior Licensing and Protection Consultant at Wibu-Systems, an innovative technology leader in the global software license entitlement market. And together, we have made it our mission to make the IoT secure.
11. Together we make the IoT work: Nisshinbo Micro Devices and Infineon produce the world's smallest class radar module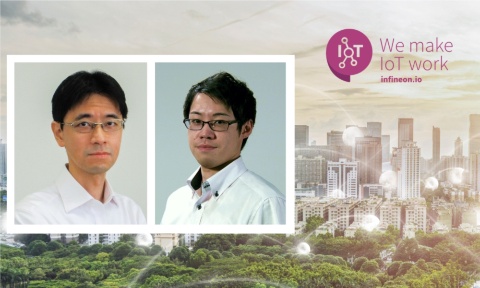 To shape the IoT's future, it does not only need a high-quality and holistic portfolio of products and solutions, we also build on long-term, reliable relationships with our customers, distributors, and ecosystem partners to ensure optimal results for all players. Because only together is it possible to create groundbreaking innovations for the Internet of Things. That's why in this episode we are very pleased to welcome one of our partners here: Nisshinbo Micro Devices Inc. Together, Nisshinbo Micro Devices and Infineon produce the world's smallest class radar module. What is behind this solution and how it supports our customers, that is what we want to talk about.
10. Riding the wave of contactless payment: How innovative semiconductor solutions support the rapid change of the payment market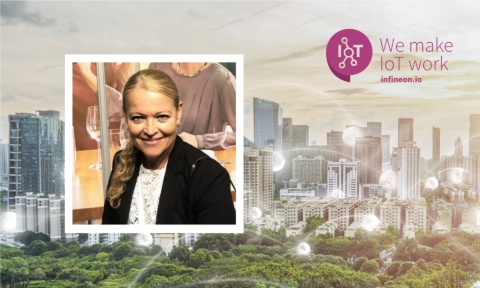 Over the last years and especially during the last months our payment behavior has changed dramatically - yes, also due to COVID-19. "By card, please" is what you hear most of the time now. You can hardly ever see people paying with cash anymore; instead, more and more customers are pulling out their cards of even smartphones or smartwatches. The market for contactless payment is changing rapidly. How this exciting future of payments will look like and how we will get there - that's what we talk about with Ursula Schilling in our new podcast episode. Ursula works as "Director Ecosystem Management Payment Solutions" at Infineon and in her role is responsible, among other things, for the business development of the Contactless Payment Solutions at Infineon.
9. Infineon's global startup co-innovation program – Let's speed up your market entry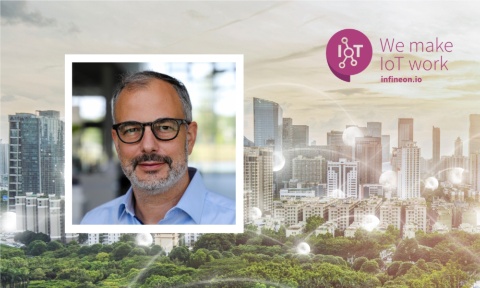 As the world continues to embrace big data, increased connectivity, and automation, the IoT industry does not stop growing and is still booming. An increasing number of IoT startups are joining this trend. New companies founded by ambitious people who want to help shape the Internet of Things of the future – making the IoT what it needs to be: real, secure and easy. In this episode, we discuss with Lamin Ben-Hamdane, Head of Startup Cooperation at Infineon, why startups are so important for the IoT industry's ability to innovate and how we're helping them shape the future of the Internet of Things.
8. CIRRENT™ Product Analytics: Data-driven approach to making connectivity products even better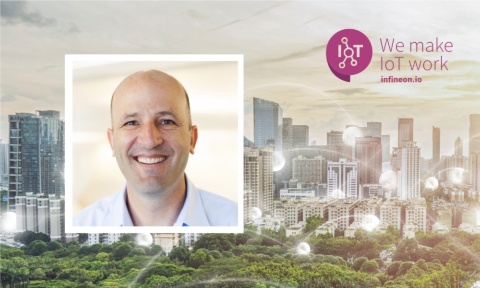 Imagine you are launching a new product. You have invested a lot of time and money to develop, to test and to promote the product. And then a small problem that was not noticed in the test turns out to be a problem. A solution must be found quickly - sometimes not so easy because necessary data are missing. Rob Conant, Vice President Software & Eco System at Infineon and founder of CIRRENT™ Product Analytics, which is now part of Infineon as a service, explains,
why data is a key lever in the drive to deliver reliable connectivity, security, and ease of use.
how the usage of aggregated anonymized data from products in the field gives companies insights into product performance.
how customers can be enabled to make better decisions and enhance the connectivity performance of their products.
7. Smart things conquer the market: Bring your smartwatch and wristband device to the next level
Today's ever-connected consumers want one thing above all – convenience! In other words: easy and intuitive ways to tune into the entertaining and useful information they love and need – without switching between different devices or screens. The answer is surprisingly simple: wearables. But for today's wearable designs, engineers face a number of challenges.
In this new episode, Verena Lackner and Marcel Konstantinov explain how smart things conquer the market and how microelectronics turn devices into voice-operated assistants, digital wallets and health tracker.
6. The senses of IoT - Giving human senses to "things" to make our lives easier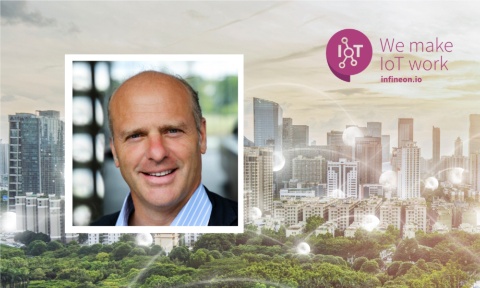 Sensors make IoT devices smarter, enabling the "things" involved to "see", "hear", "feel", "smell" and therefore understand their surroundings. Inspired by human nature, Infineon intuitive sensing solutions are designed to take the complexity out of our interaction with devices and to increase their efficiency. Infineon provides different sensors with state-of-the-art software to create a comprehensive picture of the world around us – known as "contextual awareness. In this episode we talk with Philipp Schierstaedt, who is a Senior Vice President & General Manager at Infineon, how sensors mark the starting point to each and every IoT system and give "things" human senses.
5. How Infineon's new ModusToolbox™ Machine Learning supports to make the AIoT work.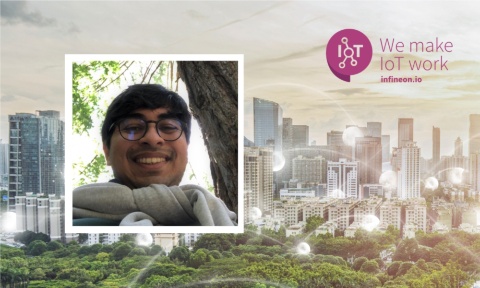 "The original paradigm of simply moving all of the data generated on the edge to the cloud for analysis and machine learning has run into three fundamental barriers, namely privacy, reliability and latency. Running these algorithms efficiently on edge eliminates these barriers and allows AIoT products to scale much more rapidly", says Sree Harsha Angara, guest of our new episode.
In this new episode we discuss,
the development of AIoT and Machine Learning,
fundamental barriers and challenges and
how the new ModusToolboxTM ML supports here.
4. The heartbeat and the nerve center of the IoT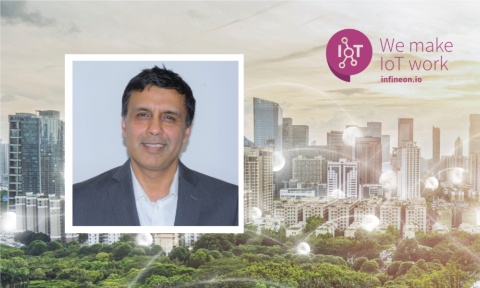 The need of "staying connected and being online" changed in the last month from being perceived as a luxury problem to a basic need. In times of social distancing digitalization brings people together – with smart IoT devices. In this episode we will talk with Vikram Gupta, Senior Vice President of Infineon's IoT Compute and Wireless Business Unit about the heartbeat and the nerve center of the IoT - meaning:
Reliable and seamless connectivity solutions
Microcontrollers for the IoT
3. Buildings that can "hear" and "see" their surroundings and react accordingly: Science fiction or reality?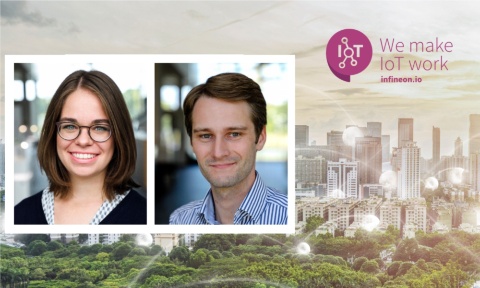 In this episode, we are pleased to welcome Julia Fichte and Manuel Hollfelder. We will talk about the relevance and benefits of smart buildings for tenants, residents, workers and of course the operators.
Which technologies make buildings smart?
How can predivtice maintenance help to reduce breakdowns and costs, while extending lifetime by 20%?
Why is it so important to work in conjunction with all the stakeholders in the ecosystem?
2. The smart home revolution is coming – and Infineon secures this revolution!
Guest of episode 2 is Steve Hanna, a Distinguished Engineer at Infineon and an IoT pioneer. He will introduce us to the Matter project where he leads several security teams and therefore answer the following three questions:
What is the Matter project and how does it work?
What is Infineon's role in this project and how will consumers and manufacturers benefit from it?
When will the first devices be available?
1. Welcome to Infineon's world of IoT – and to our new #MakeIoTwork Podcast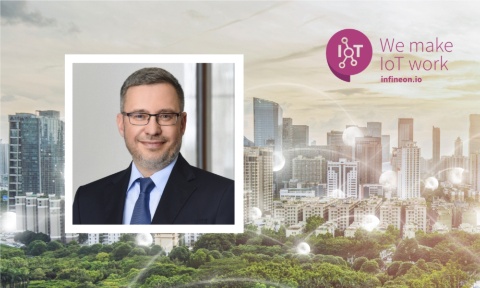 Our first guest is Thomas Rosteck, who is heading Infineon's division Connected Secure Systems. He will introduce us to the essential building blocks that it takes to make the IoT work and therefore answer the following three questions:
What is new in the IoT? Meaning what has changed lately?
What are the challenges that companies – independent of being big players or start-ups – face when addressing the IoT with their business?
How can we as a semiconductor company support companies to leverage the potential arising from the Internet of Things.