17. Ask the moderator - Q&A session and behind the scenes insights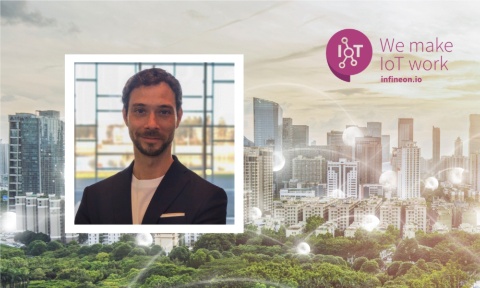 This time, there is something different with our #MakeIoTwork podcast. Do you realize? Right, today you are not welcomed by Thomas, but by his colleague Daniela. Normally she is active in the background and prepares everything for a successful recording. But today she takes over the moderation of our wonderful podcast for once, because today Thomas himself is the guest of this episode. With him Daniela will talk about the past one and a half years of our #MakeIoTwork Podcast. How did it come about in the first place? What were the most exciting topics? What were his personal highlights? Where did even our IoT expert Thomas learn something new? And of course we want to know how smart Thomas' own life actually is. Listen in and enjoy.
Transcript
Guest: Thomas Reinhardt, Director Corporate Campaigns & Customer Communication, Infineon
Moderator: Daniela Schneider, Senior Marketing Communications Manager, Infineon
Date of publication: 16 January 2023
Schneider:
The potential of the Internet of Things is well known. But how do we actually implement it? How can people and companies benefit from it? In this podcast, we meet experts from Infineon, partners and customers who tell us how it can work and what it takes to Make IoT work. My name is Daniela Schneider, I am your host, and I am excited to have this great opportunity sharing this podcast with all of you.
If you've been following our #MakeIoTwork podcast for a while, you probably noticed right at the beginning that something is different this time. That's right, today you were not welcomed by Thomas, but by me, Daniela. Normally I'm more in the background and prepare everything for a successful recording. But today I'm taking over the moderation of our wonderful podcast for once, because today Thomas himself is the guest of this episode. With him I will talk about the past one and a half years of our #MakeIoTwork Podcast. How did it come about in the first place? What were the most exciting topics? What were his personal highlights? Where did even our IoT expert Thomas learn something new? And of course we want to know how smart Thomas' own life actually is. Thomas, it's great that you got involved in this Q&A session today. A warm welcome to you!
Reinhardt:
Thank you very much. It's a very interesting perspective to sit on the other side of the table. So, I'm really looking forward to see what questions you come up with today.
Schneider:
Then let's start. The podcast has been around since April 2021, when we recorded the first episode. Do you remember who your first guest was and what you talked about with him?
Reinhardt:
Yes, of course. It was Thomas Rosteck, our Division President Connected Secure Systems, whom I already know for a long time. I talked to him about what innovations and current trends we can observe in the Internet of Things, as it is with already for quite some while. We also talked about challenges manufacturers of smart devices are facing. It was a very exciting episode, as – in course of the integration of Cypress Semiconducors - we just recently had expanded our portfolio making us a true IoT company. Thomas presented the complete portfolio and the interaction of the individual components. And of course it was also my first episode as a host.
Schneider:
Yeah right! So what was it like for you as the host of a new podcast that we didn't have before? And what has changed since then?
Reinhardt:
Actually, I was pretty nervous. After all, our guest was an absolute IoT expert. But I think we did quite well.
One thing that has changed since then is, of course, the routine one gets. I had the pleasure talking with many colleagues and partners about their exciting IoT projects since then. Steve gave us valuable insights on the Matter Standard and explained the motivations behind it. With Julia and Manuel we talked about "seeing" and "hearing" buildings. We took a closer look at our product categories: Philipp invited us into the world of IoT sensors. We talked about the heartbeat and the nerve center of IoT, meaning connectivity and microcontrollers, with Vikram. Rob well renowned IoT expert explained us why data is a key lever in the drive to deliver reliable connectivity, security, and ease of use. And much more.
However, another point that is really exciting to see, is that we already had three partners in the podcast, with whom we make the IoT work. They gave us insights on projects they implement, such as with Nisshinbo Mirco Devices from Japan, with the data security specialist Wibu-Systems or with the deep-tech startup Tributech – all of them have been particularly exciting. You learn a lot of new things about the type of collaboration, the motivation behind such projects, and gain even greater insight into the solutions we can actually offer our customers.
Schneider:
And what were your personal highlights in the past months? Were there moments when you had a real "wow" moment?
Reinhardt:
Puh, that is a really tough question. It's really difficult to highlight one or another moment, as I have learned so much from our guests.
One thing that I however learned across the different episodes we recorded so far is the necessity of Data and Hardware working seamlessly and fully integrated, to really leverage the potential of the Internet of Things. I mean, in the end it's all about data. Collecting the right data to understand, derive the right conclusions and initiated the correct action. And, to learn from the results to make decisions even more effective and/ or faster. Predictive analytics as the fundament for Predictive Maintenance Services.
Another important point I recognized is, wow, there are so many bright minds, who bring in their ideas and above all their passion, to helping to overcome social challenges, increase benefits for people, and boost productivity in industry. By leveraging this different expertise, we make IoT work.
Schneider:
That's true, and we will talk to many more experts! After all, we already have some new exciting episodes planned. But: If you could wish for a guest, no matter who - well, it should of course have something to do with IoT - who would it be? And why?
Reinhardt:
There so many inspiring people out there shaping the IoT with their innovations and passion. Hence, it is difficult to just name one.
However, I really like the episodes, which we created together with our partners and customers. This is something I would like to do more often as is gives us an even clearer picture on how end applications look like and how they add value to our lives.
Schneider:
That definitely would be great. And we could learn maybe even more about all the trend topics in the field of IoT. Artificial Intelligence of Things, connectivity technologies such as 5G or WiFi6, edge computing, wearable advancements, smart health solutions in the area of eHealth, IoT as a technology that serves to save energy, Industrial Internet of Things and hyperautomation, and much more. What is your personal IoT trend that cannot be neglected and why?
Reinhardt:
I personally think that we have reached a level, where it is not only about singular trends anymore. It is the point in time, where we have to smartly connect the different IoT technologies to create an even bigger result. The simple 1+1 equals 3 equation.
Here, digital decarbonization is both, a great example and also a key trend I perceive. IoT technologies have proven to be crucial in achieving a net-zero economy. They are vital to make generation, transmission, storage and consumption of energy more efficient. And by this, are contributing to reducing our global CO2 emission.
Schneider:
An important topic, you are tight. In addition to the major trends in IoT, there is also an incredible number of IoT devices for end users. Not always useful - I'm thinking of smart cat toilets, smart pillows for snorers, or smart flipflops. But the large number already helps to make our everyday life more comfortable and to save time and money and energy. Which of these do you already have, and what are some of the things you would still like to buy?
Reinhardt:
Smart flipflops, really? Now it really feels like I do not have any fancy IoT gadgets around me. But maybe, that is what IoT in the end is all about. Increasing convenience and comfort without us even recognizing the underlying technologies anymore. I mean, the manner how we consume and share information or how we pay our groceries have changed significantly over time.I love the possibilities that arise from the new features, the smartness and interconnectivity of devices. My smart speakers and smart watch I would never give up again – as they really make my live easier. Also a connected and smart energy management system in my home makes me feel good, as it not only makes my live more comfortable, but also reduces my energy consumption. However, if I will ever buy a Smart Salt dispenser or Smart Deodorant, I really doubt that.
Schneider:
Wait and see! That's what you've thought about many a thing! But admittedly, that sounds really strange. Although I'm having fun sitting in front of the microphone right now, it's also time for the last question: We always let our guests take a look into the crystal ball. So I'd like you to take a look into the future - in your capacity as host of this podcast, of course. What topics and guests can the guests here look forward to in the next episodes?
Reinhardt:
Sustainability is a big topic, about I personally care a lot. And of course we want to pick up on that in this podcast as well. That's why we'll be devoting one episode to the topic of "Digital Decarbonization".
Besides that, and we will definitely take a closer look at the different WiFi trends and find out what conditions need to be met to ensure that we increasingly get to the point where things talk to things - without us humans in between.
And then there will be many exciting new products and solutions, which we will of course discuss in our podcast. I'm looking forward to it, anyway! So stay tuned.
Schneider:
Thank you, Thomas, for taking on the role of guest today and answering my questions. I had a lot of fun and I hope you and our listeners did too.
Dear listeners: If you want to learn more about us and our world of IoT, visit our website www.infineon.io. If you're currently listening to us on Spotify or Apple Podcast, we'd love for you to subscribe to our podcast and leave a little review. Now it only remains for me to wish you a good time. Take care and see you next time.