32-bit XMC7000 Industrial Microcontroller Arm® Cortex®-M7
Overview
The XMC7000 - Low-power 40-nm process technology MCUs that offer best-in-class compute performance addressing high-end industrial applications.
The XMC7000 is the latest entry in Infineon's industrial microcontroller portfolio, equipped with peripherals such as CAN FD, TCPWM and Gb Ethernet, which increase flexibility and offer added value. The new MCU family offers a single and dual-core Cortex®-M7 Arm® core, both supported by a Cortex®-M0+ enabling designers to optimize their end products to meet the dynamic and demanding business conditions of industrial applications. In addition a comprehensive set of advanced peripherals, along with a competitive set of security makes it attractive to customers, who need a high quality grade platform. The MCU is able to operate in harsh environments with a temperature range of -40°C to 125°C and in parallel be the best choice to power critical applications due to its lower-power modes down to 8µA. The XMC7000 comes in four package/pin types with 17 part number variants to meet the flexible design requirements of industrial applications.
The XMC7000 architecture is built on a low-power 40-nm process technology and the MCUs offer best-in-class compute performance addressing high-end industrial applications. As a highlight, the XMC7200 integrates Gigabit Ethernet, bringing real time ethernet communications, providing reliable connectivity for always on applications. The XMC7000 family comes in 2 series: XMC7100 and XMC7200 and it is available in TQFP and LFBGA packages scaling from 100 to 272 pins. The family addresses industrial market needs and is ideal for motor control, digital power conversion and I/O applications.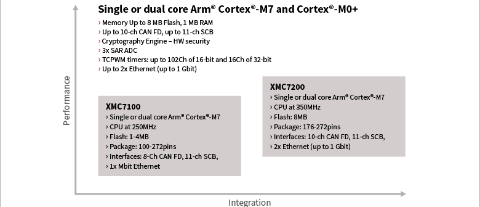 Key features of the XM7000 family:
Single and dual core Arm® Cortex®-M7 and Cortex®-M0+
M7 CPU core Frequency up to 350 MHz
Memory Up to 8 MB Flash, 1 MB RAM
Robust Flash technology
Ta = -40° to 125°C
Read While Write (RWW) Flash capability
TCPWM timers of 102Ch 16 bit and 16Ch 32 bit
Cryptography Engine support
Interfaces such as CAN FD, Gb Ethernet
SMIF and SDHC interface supported
Extended voltage operating range: 2.7 to 5.5V
Low power modes (LP/deep sleep, hibernate..)
Add. timer, ADC, CAN FD and Serial COM. Chs
Target applications of the XM7000 family:
AI and respectively Machine Learning (ML) will largely enter every embedded application, as that enables new functionalities and new levels of control and energy efficiency while preserving privacy. Make use of advanced AI within numerous applications, based on Infineon's broad portfolio of hardware, software and tools solutions and benefit from Imagimob's outstanding end-to-end development platform and excellent expertise in the development of robust machine learning solutions for edge devices serving global customers with a wide range of applications.

Leverage the advanced opportunities from AI/ML easily and with faster time to market with Imagimob AI.