Overview
Build better protection for homes and businesses with the most advance security solution with Infineon's sensor fusion based alarm system powered by XENSIV™ sensors
The Infineon's alarm system is a multi-layered security system that uses data from XENSIV™ IM69D130 microphone and XENSIV™ DPS310 barometric pressure sensor to provide true protection against burglary and intruder events. Both hardware components operate on separate algorithms and thread it into one with a sophisticated sensor fusion algorithm. With our patent-pending concept of combining audio with pressure information, Infineon's alarm system only acts when you expect it to. Both Sensors have to be triggered at the same time for an alarm. The System is more robust and cannot be triggered by various sounds like a dog barking or background noise from a movie, avoiding false alarms.
Infineon's alarm system enables the detection of two event types:
Glassbreak – when a window or door glass is broken, the algorithm extracts the intensities in the frequency spectrum. At the same time, it captures the signature pattern of the change in pressure inside the room. The sensor fusion software synchronizes the outputs and triggers a glass break alarm.
Intruder – when all windows and doors are closed, there is a stable pressure inside the room. Opening or closing a window or door triggers a pressure change within the room. Each pressure event has a signature pattern. Therefore, opening or closing a door or window triggers an intruder alarm.
Products
The Infineon's alarm system, based on XENSIV™ IM69D130 microphone and DPS310 barometric pressure sensor, brings the following features and benefits to your application:
Features of Infineon Alarm System Solution
Benefits for your application and its design

1. Glass break detection - Sensor fusion software and algorithm recognize the two sensors signature data pattern

Microphones detect acoustic events, e.g. sounds of window/door glass break
The pressure sensor detects pressure change events, e.g. change in pressure in the room when the window/door glass is smashed

2. Intruder Detection – A machine learning-based algorithm to detect the opening/closing of door/ window

The pressure sensor detects the change in events e.g. signature change in pressure when the window/door is opened/closed

Holistic perimeter protection with high reliability

The unique glass break and intrusion detection concept provides robust protection with reduced false alarms

Glass break detection system in high sensitivity settings – 99%**
Intruder detection – 96%**

**tested according to Infineon test methods

Reliable coverage of up to 50m2 room with one alarm system without a line of sight requirement

Flexible design and placement with adjustable sensitivity for different house environments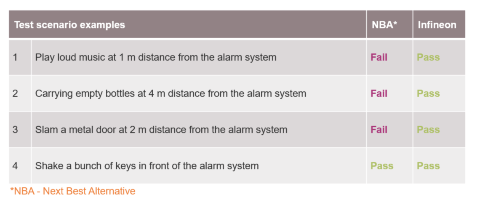 Infineon's patent-pending sensor fusion concept enables higher accuracy and precision for intrusion detection
Boards
MicroIAS reference design board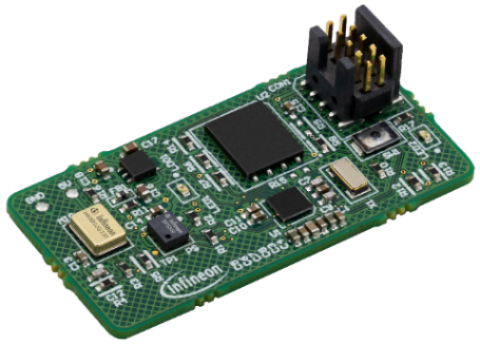 Infineon's MicroIAS is a small form factor reference board. It is running the Infineon Alarm System (IAS) software algorithms.
Key Features:
Easy visualization of all three modes via UART

Test mode
Glass break mode
Intruder mode

Adjustable sensitivity for different room sizes
LED indication of detected glass break/intrusion event
Fully tested and qualified software on a small form factor
The evaluation board includes the following products:

Infineon's XENSIVTM microphone IM69D130
Infineon's XENSIVTM pressure sensor DPS310
System-in-Package (SiP) alarm system solution by Flex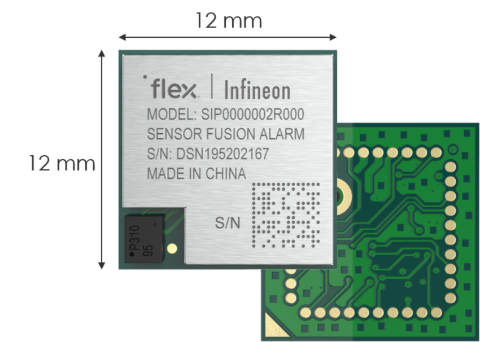 System-in-Package (SiP) mass production and fully tested alarm system solution in cooperation with our partner Flex. Flex's alarm system is a pre-packaged subsystem that takes advantage of Infineon's best-in-class microphone and pressure sensor, machine-learning software.
Key features:
Integrated sensors and compute module:

Infineon DPS310 - Digital
Infineon IM69D130 - Digital

Interfaces:

UART interfaces for debugging, flashing, alarm conditions, raw sensor data
GPIOs: configurable for communication, control, test, alarm conditions
Flash Direct Access
SWD interface for debugging

Operational Power Supply: 1.8V-3.3V