Automotive USB charging rear seat charger
Overview
The USB Rear-Seat Chargers provide power only (max of 100W) with no USB Data connectivity.
The USB PD Controller (CCG7D) is a Dual Port USB PD Controller with Integrated DC-DC Buck-Boost Controller. Based on an ARM processor with 128KB Flash and GPIOs, CCG7D supports a LIN interface to interact with the Board Control Module (BCM). Infineon has developed a software interface to share the USB-PD port status with BCM, over the LIN interface.
CCG7D can receive certified firmware, with an external USB to Type-C Dongle or over the LIN interface. CCG7D uses Root of Trust Public Key (RoTPK), RSA-2048, and SHA-256 Crypto Algorithms to validate the firmware before updating its internal Flash, with the new firmware. This feature enables CCG7D to be up to date with changing USB standards and any updates needed to the Firmware for better functionality, even after the Automotive is out of the manufacturers' production line.
CCG7D is the heart of the charger module, which integrates a 24V LDO enabling CCG7D to be powered up from the Automotive Battery (with no additional components), after the Input Filter Module. The internal DC-DC Buck-Boost controllers drive the external Dual H-Bridge Switching FETs, with Current Sense Amplifiers for protection. CCG7D integrates VCONN FETs to detect Electronically Marked USB Type-C Cables that supports 5A. CCG7D can accept up to 4 NTC Thermistors to measure the temperature of the module, these measurements will be used to throttle the output power.
Products
CCG7D with integrated features and automotive software offers the following Value Added Features for Automotive Applications:
Dynamic Load Sharing between the USB-C Ports
Output Power Throttling based on Temperature and Battery Voltages
Authenticated Firmware Update
Black Box Feature – to store a number of fault occurrences for diagnostics
Support for Programmable Power Supply (optional spec of USB-C Power Delivery)
VBATT to GND Short Protection
VBUS to CC Short Protection
Training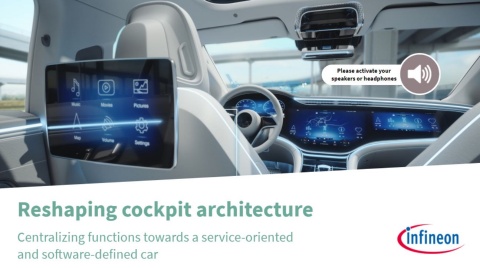 Description:
Understand the evolution of the cockpit architecture
Recognize the importance of the central modules like head unit and cockpit domain controllers and get to know Infineon solutions and their components