Automotive USB Type-C Power Delivery (PD) modules
Overview
Please choose a subcategory
Designing efficient and reliable automotive power delivery (PD) modules for head units and rear-seats
USB Type-C is the new USB-IF standard that solves several challenges faced by its predecessors, namely the Type-A and Type-B cables and connectors. It uses a slimmer connector - measuring only 2.4 mm in height - to allow for increased miniaturization of consumer and industrial products. The USB Type-C standard was released during the fall of 2014 and since then it has gained rapid support by enabling slimmer Notebook PCs, easy-to-use connectors and cables, traverse multiple protocols like Video along with USB Data, and offer power delivery for charging up to 100 W – a significant improvement over the 7.5 W with the previous USB Connectors.
EU Commission has decided that by 2024 all portable devices such as smartphones and tablets will have to be equipped with a USB-C charger, and many more electronics will follow – making USB type-C the universal connector.
As more consumer devices support USB-C and USB Power Delivery, the need for USB-C with Power Delivery capable ports in cars is increasing. Consumers will soon be able to fast-charge their devices (including laptops and tablets) over USB-C, along with Apple CarPlay and Android Auto, and enable new features such as smart mirroring for rear-seat entertainment.
USB-C charging in Automotive can be grouped under 3 application use cases:
Head Units (or Break out Boxes): these are power modules with USB-C connectors, that will connect to Head Units for USB Data transfer, for Apple CarPlay, Android Auto, Mass Storage Devices, etc. at the same time providing higher power (max of 100W) to the connected USB Devices.
Rear-Seat Chargers (with no USB Data): these are standalone power modules with USB-C connectors that will provide power only (max of 100W); there will be no USB Data communication involved. These modules may optionally carry a LIN Bus connectivity.
Rear-Seat Entertainment systems (with Display Port video over USB-C connectors): these are modules with USB-C connectors, that will be found in the rear seats of automobiles, connected to a video display monitor(s). These modules will stream video content from phones, tablets, notebooks, and game consoles over the USB-C connector, simultaneously providing higher power (max of 100W) to charge the connected USB Devices. These modules may optionally carry a LIN Bus connectivity.
The Auto USB-C Charging modules provide max power of up to 100 W per port, based on the power needs of the device attached. To meet automotive requirements, Infineon´s EZ-PD™ CCG7S single-port and EZ-PD™ CCG7D dual-port USB PD controllers incorporate value-added features such as load sharing, output power throttling (based on temperature and battery voltage), and black box. EZ-PD™ CCG7S and EZ-PD™ CCG7D can support both power-only, or also video applications. Infineon also offers automotive MOSFETs that are required to supply power to and protect the USB bus, helping to improve the efficiency, power density, and reliability of the system.
Products
Infineon provides a total solution for these USB charging applications including the following:
Training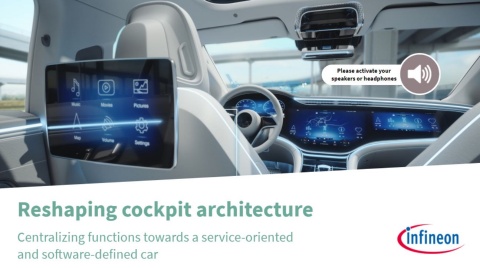 Description:
Understand the evolution of the cockpit architecture
Recognize the importance of the central modules like head unit and cockpit domain controllers and get to know Infineon solutions and their components