Overview

Safety has long been a key topic in the automotive industry and the list of requirements continues to grow. Today, for instance, safety systems must be highly dependable and adhere to an ever-increasing number of ISO norms. But most solutions also face the pressure of conforming to tighter budgets. Ideally, safety systems are scalable, which allows for integration in both entry-level and luxury cars, as well as energy-efficient, i.e. consume less fuel.
Infineon understands these challenges and is ready to meet them head on. In our wide-ranging portfolio of cost-conscious products you'll find answers for each and every safety application on the road. Because we're the only supplier to truly offer all safety products from one source, by choosing Infineon you can be certain that all components will work together seamlessly. Result: safety applications that offer the ultimate in dependability.
Also benefit from safety made easy. We're pleased to use our proven in-house expertise and know-how to help you engineer your applications. Be it in ISO 26262 development or any other relevant topic. As you'll see, we also offer the most efficient integration into safety environments. Have a look around at our solutions for safety applications and let us know how we can ensure your application will be a success!
Infineon´s PRO-SIL™
The functional complexity and levels of integration of real-time, safety-critical applications continue to increase. Norms such as IEC 61508 and ISO 26262 mandate more robust products and functional safety concepts in automotive and industrial applications.
Infineon's PRO-SIL™ trademark designates Infineon products which contain SIL-supporting (Safety Integrity Level) features. The SIL-supporting features are intended to assist the overall system design in attaining the desired SIL (according to IEC 61508) or A-SIL (according to ISO 26262) level for safety systems with high efficiency. Products with the PRO-SIL™ label will help you to select Infineon products.
PRO-SIL™ highlights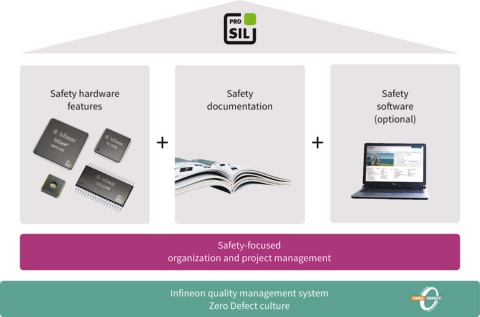 Broad hardware portfolio including sensors and micro­controllers, along with analog and power management ICs providing SIL-supporting features.
An independent functional safety management organization supports the ISO26262 conform safety lifecycle.
Safety documentation like Safety Manual and Safety Analysis Summary Report can be made available for dedicated PRO-SIL™ Products (NDA might be required)
Infineon offers expert support for system integrators to achieve the required ASIL on system level.
Infineon's PRO-SIL™ logo will guide you to our products (HW, SW, safety documentation) with SIL-supporting fea­tures. Infineon's activities result in a simplified integration in safety-related applications.