Überblick
25 V single-channel low-side gate driver with integrated over-current protection (OCP), fault reporting and enable functionality
EiceDRIVERTM 25 V single-channel low-side non-inverting gate driver for MOSFET and IGBT with typical 0.8 A source and 1.75 A sink currents in a small 8-lead PG-DSO8 package.
Over-current protection is typically implemented by a current measurement with a comparator and multiple resistors and capacitors. 1ED44176N01F provides cost and space savings by integrating the comparator. The new low-side gate driver utilizes Infineon's proprietary latch immune CMOS technologies to enable a rugged monolithic construction while realizing best-in-class fault reporting accuracy with OCP threshold tolerance of +/-5%. In addition, Infineon's IC technology enables a small PG-DSO8 package by combining the fault output and enable functions into a single pin.
Evaluation board also available: EVAL-1ED44176N01F
Zusammenfassung der Merkmale
0.5 V Over-current threshold with accurate ±5% tolerance
Over-current detection with positive voltage input
Single pin for fault output and enable
Programmable fault clear time
Under voltage lockout
CMOS Schmitt-triggered inputs
3.3 V, 5 V and 15 V input logic compatible
Output in phase with input
Separate logic and power ground
2 kV ESD HBM
Vorteile
Integrated over-current protection and single-pin fault output and enable function provide potential space and cost savings
OCP threshold tolerance of ±5% provides accurate sensing
Flexible fault clear time set-up
Under-voltage lock out provides protection at low supply voltage
Industry standard package
Trainings
1ED4417x family of 25 V single-channel low-side gate drivers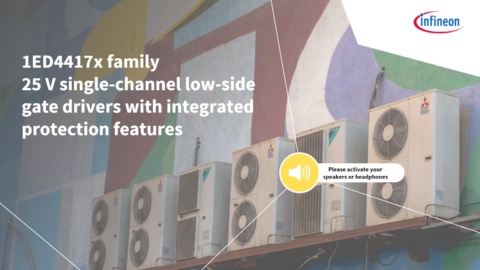 In this training, we will focus on our low-side gate driver family – 1ED4417x and on its target applications. With this information, you will be able to grow your businesses by winning new designs and customers.