GaN HEMT – Gallium Nitride Transistor
Überblick
GaN HEMT – Gallium Nitride Transistor Unterkategorien
CoolGaN™ - Ultimate efficiency and reliability at ease-of-use.
Gallium nitride (GaN) transistors offer fundamental advantages over silicon. In particular, the higher critical electrical field makes it very attractive for power semiconductor devices with outstanding specific dynamic on-state resistance and smaller capacitances compared to silicon MOSFETs, which makes GaN HEMTs great for high speed switching applications. Gallium nitride transistors can then be operated with reduced dead-times which results in higher efficiency and enables passive cooling. Operation at high switching frequencies allows the volume of passive components to shrink which improves GaN HEMTs reliability and overall power density.
The most important feature of a GaN power transistor is its reverse recovery performance. As Infineon's CoolGaN™ transistors have no minority carriers and no body diode they do not exhibit a reverse recovery. Therefore, hard-switching topologies such as totem-pole PFC can be employed to achieve higher efficiency, for example in datacenter and server power supplies, in order to save energy and reduce OPEX.
Infineon's CoolGaN™ is a highly efficient GaN (gallium nitride) transistor technology for power conversion in the voltage range up to 600V. With extensive experience on the semiconductor market, Infineon's GaN technology brought the e-mode concept to maturity with end-to-end production in high volumes. The pioneering quality ensures the highest standards and offers the most reliable and performing solution among all GaN HEMTs on the market.
Switched-mode power circuits using CoolGaN™ can benefit from the improved energy efficiency and the improved power density, which is not possible with state-of-the-art silicon devices. In high-frequency operations, above 200-250kHz, switching speed is key to determining how the transfer of energy occurs. The superfast switching speed of Infineon's CoolGaN™ enables a very short dead-time. With a predicted lifetime of more than 15 years and a failure rate below 1 FIT, customers can rely on its reliability and quality.
Infineon's high performance CoolGaN™ e-mode HEMTs are available in top- as well as bottom-side cooled SMD packages. Allowing for highest efficiency and power density as well as best thermal behavior in the respective applications. These e-mode GaN HEMT transistors target consumer and industrial applications such as server, datacom, telecom, adapter/charger, wireless charging, and audio with the most robust and performing concept in the market.
Audio amplifier performance is maximized with Infineon's CoolGaN™ gallium nitride technology and allows approaching the theoretical ideal performance of class D audio amplifiers due to the unique characteristics of GaN HEMT switches. Their ideal switching waveforms are the prerequisite to maximize audio performance and minimize power losses in class D audio amplifiers.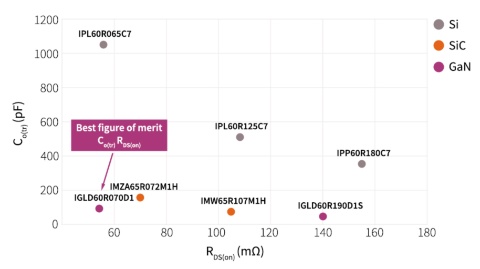 In chargers and adapters, GaN HEMT transistors enable superior and highly efficient switching performance, and greatly help achieving high power density designs.
In hybrid flyback switching operation with the PFC + hybrid flyback controller XDP™ digital power XDPS2221, the negative current needs to be compensated with positive current. As such, wide bandgap switches such as CoolGaN™ offer excellent figures of merit RDS(on) Co(tr), best-suited to enable low circulating current resulting in high conversion efficiency.
Using Infineon's GaN HEMT devices in high-power applications such as server power supply and telecom applications leads to cost savings and more power per rack. It also allows for easier control schemes due to its hard-switching capabilities while at the same time offering efficiency benefits compared to the next best silicon alternative. With the increasing demand for faster data communication, GaN HEMT for 5G applications will enable higher efficiency and extremely fast switching speeds.