概要
PMSM/BLDC motor & PFC controller with integrated script engine
iMOTION™ IMC100 motor & PFC controller with Motion Control Engine (MCE 2.0) and support for customer scripts in QFP-64 package. The IMC102T-F064 is a flexible control solution for variable speed drives including power factor correction (PFC). It performs sensor less field oriented control (FOC) for a permanent magnet synchronous motor (PMSM) in parallel with a boost or totem pole PFC. The integrated script engine (small virtual machine) provides application flexibility by running customer scripts.
特長
Highly integrated solution for inverterized drives with PFC

すべてのデジタル、アナログ部品を搭載
外部オペアンプやコンパレータが不要
3.3Vまたは5V電源

次世代モータ制御エンジン (MCE 2.0)

高効率な正弦波モータ制御を実現する実績ある計算エンジン
シングルシャントまたはレッグシャント
センサレスまたはオプションのホールサポート
柔軟なホストインターフェース/制御オプション

Power factor correction (PFC) control

Boost PFC
Bridgeless totem pole PFC

内蔵保護機能
柔軟なパラメータ設定による複数モータ対応
High pin count package
利点
市場投入までの時間を短縮


プログラミング不要
モータのパラメータ設定および調整が容易

Easiest way of adding active PFC control
低BOMコスト


外部オペアンプやコンパレータが不要
シングルシャントのセンサれるFOC動作(レッグシャント、ホールセンサーはオプション)
direct VAC sensing for PFC control

電力段およびモータの完全な保護
ゲートドライバおよび電力段の完全な柔軟性
トレーニング
The latest software release of Infineon's iMOTION™ Motion Control Engine (or MCE) supports two kinds of Universal Asynchronous Receiver Transmitter communication options. This training focuses on the Configurable UART communication protocol.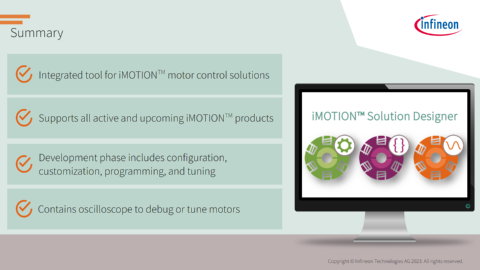 The iMOTION™ Solution Designer bundles all PC-based support functions related to setting up and running iMOTION™ products. This includes the configuration, programming and live tuning using configurable oscilloscopes as well as script editing and debugging. This training will help you get started with iMOTION™ Solution Designer.
The release of iMOTION™ 2.0 comes at an opportune time. Recent trends in the markets show that inverterization is taking hold at small as well as large companies, being applied across traditional applications, such as refrigerators, and for newer applications like hair dryers and water purifiers. To keep up with the trend, companies are required to convert outdated single speed motors to sophisticated variable speed motor drives. The latest iMOTION™ 2.0 is a close-knit turnkey solution consisting of advanced software, hardware, prototyping & evaluation boards, and support material that makes it easier than ever for customers to go to market cheaper and faster with an efficient, inverterized motor drive solution. Watch this video to get an overview of what is new with iMOTION™ 2.0.