Overview
The iMOTION™ IMC100 devices are a family of motor control ICs for the highly efficient control of a variable speed drive (PMSM/BLDC). With its ready-to-use motor control algorithm, they allow fastest time-to-market and can control either a discrete inverter implementation or an Intelligent Power Module (IPM). The family takes advantage of the latest evolution of our field-proven Motion Control Engine (MCE 2.0). This new generation of the MCE contains multiple improvements of the base algorithms and implements several new features.
Multiple configuration and package options in the IMC100 family allow an optimal match to application requirements in major and small home appliances and air conditioning. The smallest derivative, the IMC099 is a standalone implementation of the MCE 2.0 for single motor applications like fans and pumps. The IMC101 devices offer an integrated scripting engine similar to a small virtual machine. IMC102 devices add the control of an active power factor correction (PFC) in a boost or bridgeless (totem pole) configuration.
All IMC100 devices support the functional safety requirements according to the IEC/UL 60335-1 ('Class B').
Select one of our iMOTION™ families and get more information
Highlights
iMOTION™ IMC100 Family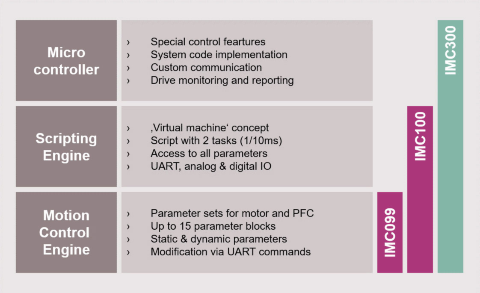 Being optimized for cost-sensitive applications like major and small home appliances the IMC100 family is based on a single MCE processing core.
Still, they offer application flexibility to the user with the integration of a small virtual machine (scripting engine). Scripts can be generated, tested and downloaded with the standard iMOTION tools. As standalone controllers they can be combined with the best fit from Infineon's extensive portfolio of IPMs or discrete gate drivers and power stages for both high and low voltage applications.
Features
Benefits
Applications

Next generation Motion Control Engine (MCE 2.0)
- Single or leg shunt current measurement
- Sensorless Field Oriented Control (FOC)
- Optional hall sensor support
- Flexible host interface options
Option for boost or totem pole PFC
Integrated protection features
Scripting engine for application flexibility
Support for IEC 60335-1 ('Class B')

Fastet time to market
- No software development required
- Easy motor parametrization and tuning
Lowest BOM cost
- Integrated ADC and comparators
- Sensorless FOC algorithm
- No need for additional PFC controller
- No need for external OpAmp for current sensing
- Internal oscillator
Flexibility for customer additions via scripting
This might also interest you
Whitepaper: Power device choices in the new small home appliance market
Energy efficient, modern-looking, wipe clean and hermetically sealed surfaces are only a few characteristics that a design engineer has to fit into one small home appliance. Infineon offers solutions for the two key areas – induction heating with IPD Protect, a RC-H5 IGBT copacked with a protection gate driver, and motor control solutions using our energy-efficient, integrated power devices CIPOS™ Intelligent Power Modules and iMOTION™ Integrated Design Platform.
Dive deeper and discover more about the changing landscape of the SHA market and enablement of electronic solutions in this free whitepaper!
Videos
State of the art sensorless algorithm for permanent magnet motor control is described in this video. Common pitfalls of sensorless control, such as a non-controlled startup are easily avoided with the Motion Control Engine (MCE) inside infineon iMOTION devices. A clean startup, without vibrations and oscillations is demonstrated with a low inertia fan motor.
iMOTION™ ICs integrate hardware and software functionality required for controlling PMSM motors with field-oriented control (FOC) (with and without sensors). iMOTION™ products are based on Infineon's patented, field-tested Motion Control Engine (MCE), which eliminates software coding from the development process. As a result, all users have to do to implement a variable speed drive is configure the MCE for the respective motor drive system.