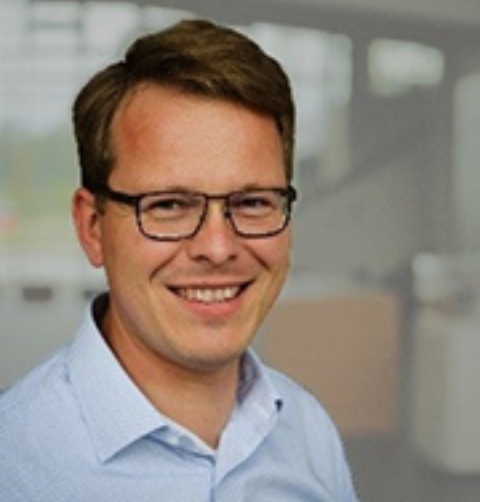 AI is a vital element for Infineon's future. At the Artificial Intelligence Center of Excellence, we connect Infineon's AI enthusiasts to learn faster together. We drive the most exiting AI use cases forward and explore new ways to use AI in every part of our company – as a smart way to run our business and for creating outstanding customer solutions!
Infineon empowers you to design your own AI solutions!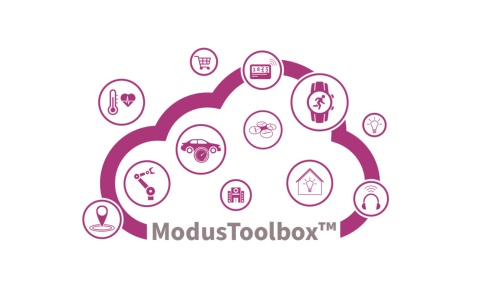 With our enabling AI, we support our customers to invent their own applications, combining our soft- and hardware solutions for their own state-of-the-art AI use cases. We provide flexible tools and modular libraries to easily optimize, validate and deploy deep learning models from popular training frameworks on Infineon's ultra-low power microcontrollers.

By bringing AI to the edge, Infineon champions data privacy, latency, energy efficiency and overall system reliability.
How does Infineon use AI?
With AI, we boost our company's performance!
Infineon is driving its digital transformation forward. In the past years, we have made major leaps, setting benchmarks for the semiconductor industry. Now, we strive for the next level of a fully data-driven company and use key digital technologies for how we invent, develop, manufacture and sell our products.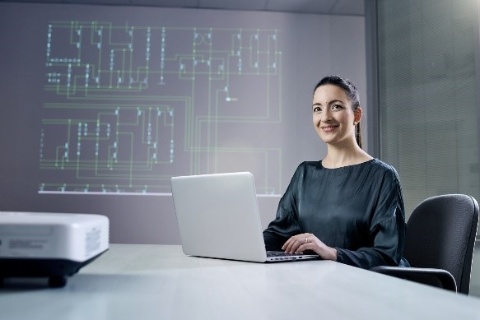 Research and Development: Our product development is empowered by AI. This makes us faster, improves the cost performance of our products and helps to verify that the products meet their requirements. As AI covers the more repetitive parts in development, this offers even more space for our talent's creativity.


Customer Services: Our AI-driven assistants support our customers to configure our products best and speed-start! For instance, our 'Virtual Field Application Engineer' finds the right settings for each use case. This increases time-to-market and reliability for our customers.


Corporate Functions: We use AI throughout our central functions to manage knowledge, analyze tech trends and forecast the future for superior decision-making in finance, accounting, audit, sales and marketing. In this way, AI empowers our employees.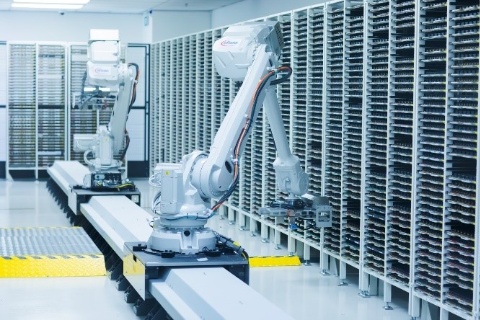 Manufacturing: We advance our chip-manufacturing excellence with AI's powers for data-driven decision making. We use smart analytics and operations data for image classification, virtual tests, predictive maintenance and root cause analysis. In this way, AI supports our zero-defect culture, equipment stability and the fast delivery of our products.


Supply Chain: Semiconductor manufacturing needs a highly responsive global supply chain – or as we call it: a global virtual fab. In our supply chain management, we are working with advanced machine learning capabilities to optimize our forecast and a global production network that increases our flexibility. The result: a resilient, end-to-end supply chain that is tailored to our customers' needs.

Infineon not only enables AI applications, but also applies AI in more than 100 use cases within its organization.
How does Infineon innovate on AI? We want to connect with you on future AI solutions!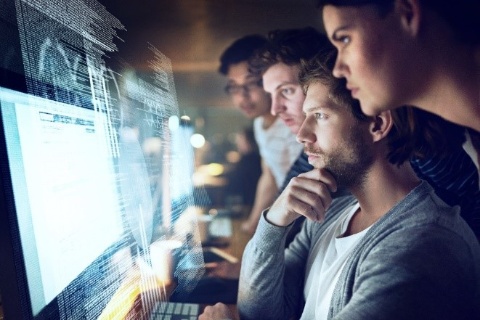 AI Careers
Infineon is an exciting home to AI talents worldwide! Have a look at our latest job openings for Artificial Intelligence, Machine Learning and Data Science and many more in related fields.
At Infineon you will find a breadth of AI fields to dive into: Our AI experts co-design future chips, make our sensors smart, create intelligent fabs, and turn big data into strategic business decisions. We welcome versatile and specialized AI innovators alike, and offer attractive career paths for AI scientists, engineers and business experts.
Join us on Infineon's AI journey to make the world easier, safer and greener!
Infineon's Nico Kelling (Head of AI Center of Excellence) and Lamin Ben-Hamdane (Head of Start-up Cooperation) were invited to TUM Venture Lab's Podcast 'Entrepreneurial Realities'. They shared how AI start-ups can benefit from working together with Infineon and on future trends for the semiconductor industry. Infineon's Head of the AI Center of Excellence joins the board of BIKTKOM's AI Working Group. As Germany's digital association, BITKOM represents more than 2,000 companies of the digital economy. The working group's two-year term stands under the motto "AI beyond the Hype: The Path from Innovation to Production" and will focus on the following key topics:
• Increasing the maturity of AI use cases in companies and their successful scaling
• AI talent strategies – fostering the pipeline in Germany
• AI Ethics – how to deal responsibly with the power of AI
Congratulations to the new AI board! Infineon joins TUM.AI's Makeathon on "AI for Social Good". Cecilia Carbonelli, System and Algorithm Architect, will give a talk on environmental sensing. In the session, colleagues will also give insights on how AI is leveraged for sustainability goals @Infineon. Our team is excited to be on the stage of the largest student-organized Makeathon in Germany! Infineon is looking forward to the first in-person AI event after 2 years! We will be hosting our annual AI conference at Munich's finest innovation space: The Urban Colab. We will gather our AI talents to exchange on a variety of topics: IoT, Operations, Automation of 3D simulation, optimization methods, computational material design and more! Enabling AI at scale will be our focus this year. A high-caliber line-up of start-ups and academic partners will join. Stay tuned for more details!
AI in the media
| | |
| --- | --- |
| Date | Title |
| Jul 1, 2022 | Infineon to strengthen its leading expertise as IoT solution provider by acquiring verification expert NoBug in Romania and Serbia |
| Jun 28, 2022 | Infineon launches industry's first battery-powered AI/ML-based acoustic event detection and sensor fusion alarm system |
| Jun 15, 2022 | Infineon XENSIV™ sensors drive smart solutions to make life easier, safer and greener at Sensors Converge 2022 |
| Jun 08, 2022 | "Building new Connections:" Infineon links digital to the real world with new decarbonization and IoT solutions at EW Nuremberg 2022 |
| May 27, 2022 | Infineon's AIROC™ Wi-Fi/Bluetooth® solutions now available with NVIDIA Jetson Edge AI platform |
| May 17, 2022 | Prof. Angela Schoellig accepts Infineon Endowed Chair "Safety, Performance and Reliability of Learning Systems" at the Technical University of Munich |
| Mar 10, 2022 | Infineon and Sleepiz enable high-precision sleep monitoring at home based on radar technology |
| Feb 15, 2022 | Infineon expands commitment to quantum computing and takes part in six new research projects |
| Feb 8, 2022 | Infineon and SensiML enable sensor data capture and ML models for smart home, fitness and industry applications; announce design challenge |
| Jan 5, 2022 | Driving automotive innovation: Infineon's new generation of AURIX™ microcontrollers accelerates electrification and digitalization of the car |
| Dec 12, 2021 | Infineon wins "Industrie 4.0 Award" for "Smart Supply Chain Management" |
| Oct 27, 2021 | Shaping the startup ecosystem: Infineon and Hyundai Motor Group to nurture startups focusing on future mobility and digitalization |
| Oct 21, 2021 | Infineon and Rainforest Connection create real-time monitoring system to detect wildfires in some of the world's most vulnerable forests |
| Oct 20, 2021 | Infineon and Picovoice collaborate to bring AI to next generation IoT devices for smart home and wearable applications |
| Sep 17, 2021 | Infineon opens high-tech chip factory for power electronics on 300-millimeter thin wafers |
| Jun 28, 2021 | High tech meets design: screenless wristband enables communication and contactless payment with innovative biometrics |
| Jun 23, 2021 | Infineon and pmdtechnologies partner with ArcSoft for under-display Time-of-Flight turnkey solution |
| May 19, 2021 | Infineon's new ModusToolbox™ Machine Learning enables TinyML for secure AIoT |
| May 18, 2021 | Improved road safety: Infineon and Reality AI teach cars how to hear |
| Feb 18, 2021 | "We make IoT real" – Infineon showcases its comprehensive portfolio at virtual Embedded Solutions Conference 2021 |