Overview
Infineon's first product family of next generation, cutting edge MOSFETs now available in logic level
Innovation and best-in-class performance are the keys to Infineon's success in introducing outstanding products to the marketplace. The OptiMOSTM 6 family of 40 V devices is once again setting a new technology standard in the field of discrete power MOSFETs. With the OptiMOSTM 6 40 V logic level product family Infineon offers a benchmark solution for applications requiring lower gate drive capability. Compared to alternative products, Infineon's leading thin wafer technology is enabling significant performance benefits.
Infineon's OptiMOS™ 6 power MOSFET 40 V family is optimized for a variety of applications and circuits, such as synchronous rectification in switched mode power supplies (SMPS) in servers, desktop PCs, wireless chargers, quick chargers, and ORing circuits. >more
Highlights
Infineon's next generation of cutting edge MOSFETs
Improvements in on-state resistance (RDS(on)) and figure of merits (FOM - RDS(on) x Qg and Qgd) enable designers to increase efficiency, allowing easier thermal design and less paralleling, leading to system cost reduction.
Infineon's market-leading OptiMOS™ 6 power MOSFETs 40 V are available in two different packages:
SuperSO8 – 5x6 mm with RDS(on)ranging from 5.9 mΩ down to 0.7 mΩ
PQFN 3x3 – 3.3x3.3 mm with RDS(on)ranging from 6.3 mΩ down to 1.8 mΩ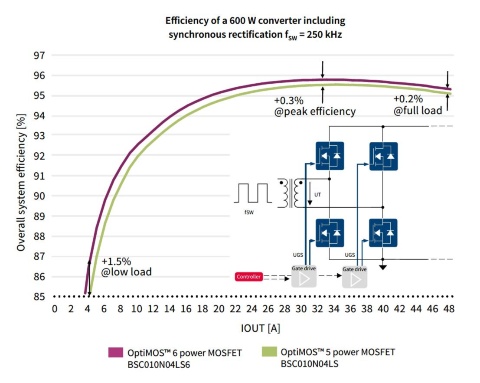 OptiMOS™ 6 40 V combines the best-in-class RDS(on) with the superior switching performance
In SMPS applications, OptiMOS™ 6 is the perfect solution for optimizing efficiency over a wide range of output power, avoiding the trade-off between low and high load conditions.
At the low output power range, the switching losses dominate the efficiency curve. The OptiMOS™ 6 power MOSFET BSC010N04LS6 achieves a much better efficiency in this range compared to the same RDS(on) OptiMOS™ 5 due to its superior switching performance.
Moreover, at a higher output power, where the RDS(on) losses are getting more dominant, the OptiMOS™ 6 can maintain the advantage, leading to a better performance throughout the whole operating range.