EVAL_PASCO2_SENSOR2GO
EVALPASCO2SENSOR2GOTOBO1
Overview
XENSIV™ PAS CO2 Sensor2Go Evaluation Kit - Measure what matters
The XENSIVTM PAS CO2 Sensor2Go Evaluation Kit (EVALPASCO2SENSOR2GOTOBO1) has been developed to enable the fast & easy evaluation of Infineon's revolutionary Photo Acoustic Spectroscopy (PAS) CO2 sensor.
The Sensor2Go Evaluation Kit can be used in combination with the PAS CO2 Mini Evaluation Board
The Sensor2Go Evaluation Kit contains:
XENSIVTM PAS CO2 Evaluation Motherboard
Micro-USB cable
Graphical User Interface (GUI) and software via Infineon toolbox
Summary of Features
Plug and play: direct connection to PC via micro-USB cable
All key functionalities of the sensor available
Logging of the sensor history
All power supplies generated on board
Device can also be accessed via I2C
Potential Applications
Key applications for air quality monitoring and/or demand controlled ventilation: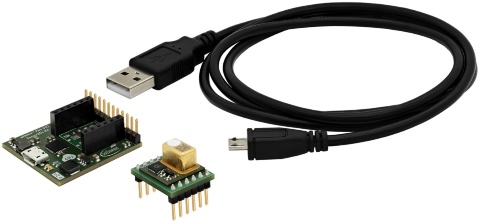 Tools & Software

Infineon's Toolbox supports this platform with a software to enable the evaluation of XENSIVTM PAS CO2 performance.
Where to download the libraries* for XENSIVTM PAS CO2:
Arduino library: Arduino library for Infineon's XENSIV™ PAS CO2 sensor covering interfacing and code examples.
PSoC library: This library provides APIs to interface with the XENSIV™ PAS CO2 sensor that allows user to read the CO2 concentration.
* We don't have any library at the moment for apple support