How Working at Infineon Provides a Sense of Purpose
23.11.2022 I Richard Sweet Jr., Health Practice Director at Infineon Technologies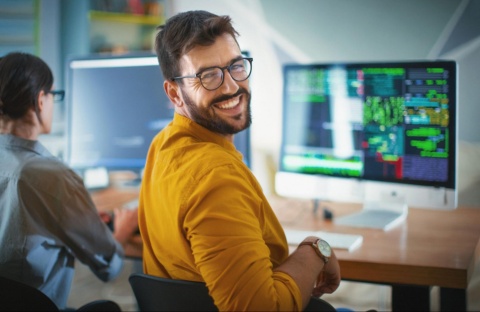 Here's our promise to those working at Infineon: as a part of our team, your projects will impact lives for a better tomorrow.
At Infineon, we're uniquely positioned to contribute towards some of the world's greatest challenges, and our commitment doesn't end with our business operations. Through voluntary efforts and commitment for change, we dedicate our talent, knowledge, and resources to make the world a better place—easier, safer, and greener for ALL.
Apply to be a part of our team and gain a better understanding of the work we do by visiting our Careers page.
Empowering Your Professional Purpose
To build a better future, radical change is needed, the kind of change that can only be powered by people. People who feel supported, encouraged and free to think bigger. We provide the inspiration you need to connect to the unexpected in yourself, then give you space to share your brilliance.
We offer a number of career growth initiatives to empower your individual sense of purpose, from upskilling programs to insightful mentorship programs that connect you with industry experts. Working at Infineon comes with other perks as well, such as tuition reimbursement to relieve some financial stress, paid educational courses to bolster your skill set, and leadership training to develop the skills you need to uphold a leadership position at Infineon. With the help of these career growth initiatives, you can achieve a sense of purpose through constant professional development.
Along with our attention to your personal and professional progression, the projects you'll work on with us will make genuine contributions to the world - making for an undeniable sense of purpose in your career.
Projects & Solutions That Serve the World
No matter your division, whether it be automotive, industrial power control, power and sensor systems, or connected secure systems, working at Infineon means shaping the future of technology. Our automotive engineers leverage microelectronics to enable cleaner, safer, and smarter cars. Those working in industrial power control are making strides towards a world powered by unlimited green energy. Power and sensor system engineers are pushing the boundaries of power management, sensing, and data transfer abilities - and our connected secure systems division is at the heart of IoT innovations. Simply put, our work doesn't just matter to our clients - it matters to the world.
As part of the Infineon team, you'll get to work with other brilliant minds on pioneering projects that enable smart mobility, efficient energy management, and secure the capture and transfer of data —creating solutions that help solve the technological, economic and social challenges facing the world today —making our world easier, safer and greener for generations to come. Our commitment doesn't stop with our work. Driven by our shared values, we bring that same passionate commitment to social responsibility with impactful programs and meaningful volunteer opportunities that make a difference in people's lives everyday. We invite you to be part of the change.
Find Your Purpose Here!
The projects we carry out at Infineon actively contribute to a smarter, cleaner, and more sustainable world - meaning your work will always have purpose.