A Glimpse Into Infineon's Applications Engineer Opportunities
22.11.2022 I Mark Finn, Vice President, Applications Engineering at Infineon Technologies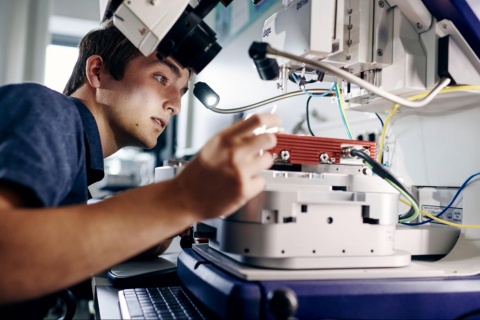 A better future relies on the actions we take today. At Infineon, our collective work makes life easier, safer, and greener—with technology that achieves more, consumes less, and is accessible to everyone—impacting lives everyday. Let's shape the future together.
If you're searching for a company that provides true purpose through innovative projects, wonderful benefits, and consistent growth opportunities, you may have a place among Infineon's global team of solution-oriented engineers. More specifically, if you handle system development for automotive, industrial, and consumer markets, our Applications Engineering positions could be worthy of your resume.
Department Overview
We lead by example. Infineon is a market-share leader in four major industry categories: industrial electronics, automotive electronics, sensor technology, and security, plus we're also rated #1 across multiple technology segments.
Our Applications Engineers are in love with technology and developing new solutions for our global roster of customers. As a part of our Applications Engineering groups in the U.S., you'll be working with a number of teams to develop solutions for our customers. We work as a team to develop engineering requirements and online documentation for our diverse range of products, while our marketing and sales departments will develop effective marketing strategies to help customers understand where we can add value to their solutions. Since the industrial electronics, automotive, and consumer spaces are rapidly growing, new innovation challenges occur daily along with the need to scale solutions to work in a global market.
Take a look at some of the main roles of an Infineon Applications Engineer:
Field Applications Engineer:

Be our point on customer communication.

Product Applications Engineer:

Develop and Match Infineon tech with market needs.

System Applications Engineer:

Develop new systems with your IT expertise.

Customer Support Applications Engineer:

Help customers solve their tech problems
How You'll Contribute
As an Applications Engineer at Infineon, you may act as the first point of contact in technical consulting to help our customers find creative solutions for their projects. One of the most common questions we're asked is, "how could I create this?"—our application engineers answer such inquiries to solve customers' problems and help devise never-before-seen products. You'll also be offering demo boards, putting together innovative documentation, and providing support throughout the product design process. It's a hybrid role, with both hands-on development and customer-facing tasks ranging from system understanding to technical consulting.
Applications Engineers work on a range of projects integral to Infineon's ongoing innovation. Projects range from coordinating board designs, such as anti-collision solutions for robots in factory settings, to creating advanced human-machine interfaces (HMI) for connected devices such as smart speakers.
How You'll Grow With Us
We set you up for success. When you join our team, we invest in you as a whole person. Throughout your journey, we'll enable and empower your continuous learning and development with programs and opportunities designed for growth—so you can achieve your goals and stay one step ahead of change. You'll learn how to apply any number of the broad range of IoT products and solutions that Infineon offers—from MOSFETs to Micro controllers, Connectivity to Power Solutions and so much more.
As an Infineon Applications Engineer, we'll invest in your health, well-being, and overall livelihood. Our benefits package takes the "new world" into account by offering flexible schedules, childcare support, and company perks that render our staff proud members of the Infineon team. We also place diversity, equity, and inclusion high on our priority list, and support a genuine balance to ensure your well-being is tended to. We'll pay close attention to your needs as a human being, so that you can contribute to tomorrow's innovations with a sharp and motivated mind.
Success Stories
Andreas, an Applications Engineer at our Munich location, appreciates the sheer range of duties he upholds in the Power and Multimarket space: "The range of tasks covers everything - from hands on activities like developing, manufacturing, and testing of complex application boards with high-end equipment all the way to providing documentation and customer consulting. Whether you're just starting your career or you already have job experience under your belt, the job is an excellent opportunity to develop your know-how. It's a job you can grow with."
Contribute to True Change
The world is beckoning for change—and we're answering the call. Are you on board?