Smart power closure systems
Overview
Smart power closure modules that control entry and exit points, as one of the direct interfaces to the driver and passengers, are an important contributor to the user experience and a differentiator for the car-makers. Smart power closures include:
Power Lift Gate and Power Boot/Trunk, e.g., enabling access to the rear storage by raising, lowering, and latching of the rear access panel on an SUV or sedan, often with hands-free operation
Power Sliding Door, e.g., horizontal movement and latching of the side doors of a van, minivan, or other MPV
Power Doors, e.g., self-opening and self-closing of driver and passenger doors to enable easy ingress and egress from the vehicle
Power Tail Gate e.g., raising and lowering of the door on the bed of a pickup truck
Power Convertible Top, e.g., opening or closing of a soft-top or hard roof panels in a cabriolet (convertible)
Smart window lifts and sunroof modules use smaller motors, have different requirements, and favor mechatronic solutions
While electromechanical systems such as power windows have long been standard features of the modern car, power lift gates, and other smart power closures are now making the move from optional extras to standard equipment. They are comparable with similar challenges in meeting requirements for supply, communication, sense, actuation and control, and quiescent current targets. To manage smart power closure modules in the smallest space and with the lowest power dissipation and low quiescent current, integration of functions is one of the key factors for design.
The Infineon product portfolio here is best prepared and offers many product families with high integration:
SBC (System Basis Chip) gathers in one product a system supply, communication interface, diagnosis, switching functions, and failsafe output with best-in-class quiescent current
Multi-MOSFET Driver IC to control up to eight Half-Bridges (with external MOSFETs) with best-in-class quiescent current
NovalithIC™, low ohmic protected single Half-Bridge Switch (with integrated MOSFETs)
As with many power motor control designs, one of the critical aspects is controlling EMC emissions during PWM operation. The Infineon products here (Multi-MOSFET Driver IC and NovalithIC™) include features that avoid the compromise between EMC performance and power dissipation.
An additional challenge for the smart power closure module designer is the increasing number of configurable variants driven by a car manufacturer's platform strategy. To easily support the diverse variants with a single PCB design, scalability within product families has become necessary.
Infineon's Traveo II™ MCU family has scalable memory and I/O capability to meet OEM's platform Power Closure design. Infineon's PROFET™ family of smart high side power switches, for example, has the most scalable portfolio of high side switches in the market.
Products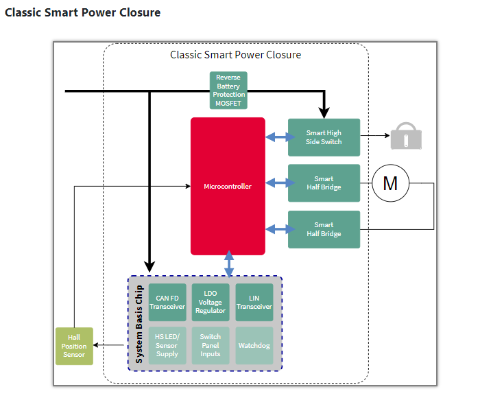 CAN FD Transceivers
Hall Position Sensors
Low Drop-Out Regulators
LIN Transceivers
Microcontrollers
MOSFETs
Smart Half Bridge
Smart High Side Switches
System Basis Chips
All of these applications can be managed either electro-mechanically or fully electronically, but the latter approach has significant advantages:
Avoids driver irritation over relay clicking, necessary as cars become quieter (e.g., hybrids, EVs, and cars with start/stop function)
Brings the comfort of the soft stop of motion through PWM motor regulation, avoiding the noise and hazard of a hard closure slam, improving the user experience
Enables lighter and thinner door or body panels, as smaller footprints and lower profiles of semiconductors allow thinner ECUs
Preserves the user experience and avoids service calls, as solid-state solutions bring additional intelligence, robustness, and safety via sense, diagnosis, and protection elements
Control Software updated by FOTA, to overwrite control software after production release
Regarding the ECU design, seat control module systems require:
A set of scalable Multi-MOSFET Drivers to configure any kind of Half-Bridges with external MOSFETs
A set of robust, scalable MOSFETs for creating half-bridges and H-bridges
A supply and communication interface which can be built discretely (voltage regulator + LIN/ CAN transceiver) or integrated (System Basis Chip: SBC)
A set of scalable single- and multi-channel High-Side Switches with sense, diagnostic and protection functions
A set of scalable Single Half-Bridge Switches with sense, diagnosis, and protection functions
A µC capability fitting to the system requirements from low cost up to high-end modules with local decision-making options.