Tire Pressure Sensors (TPMS)
Overview
SP40/SP49 tire pressure sensors for Tire Pressure Monitoring Systems (TPMS)
As it stands, legislation in Europe, the USA and China have mandated that all vehicles be equipped with Tire Pressure Monitoring Systems (TPMS). By gauging a tire's pressure levels, a TPMS car tire pressure alarm sensor monitoring system can alert the driver when under-inflation may lead to unsafe or inefficient driving conditions. In this way, TPMS can prevent tire bursts and the dangers and costs that come with it. Not only do TPMS tire sensors cut down on the number of under-inflated tires on the road – which can and do cause dangerous accidents – but they have also been shown to increase Europe's fuel economy by two percent, as appropriate tire inflation increases a car's fuel efficiency. Maintaining proper tire inflation also serves to increase the lifespan of the tire, which is particularly important for commercial vehicles. As automatic tire pressure sensors become an essential component of automobile manufacturing, so too have TPMS IC and TPMS sensor manufacturers to the global automotive industry.
To learn more about Infineon's SP40 TPMS sensor product family and their range of useful applications, contact a member of the team today orexplore our support section.
Infineon's tire pressure sensors perform all of the functions necessary to implement a state-of-the-art module for a Tire Pressure Monitoring System (TPMS). As part of our XENSIVTM Pressure Sensors portfolio, our SP40 TPMS sensor ICs are easy to integrate and feature a microcontroller, sensors, wireless communication, and convenient peripherals. They only need a few passive components and a battery to complete a full automotive TPMS sensor assembly. The SP40 TPMS sensor measures wheel pressure, radial acceleration, temperature, and supply voltage. It is certified as a green package compliant with RoHS. It also comes with a pressure-auto-ranging feature, which provides best-in-class pressure accuracy between the range of 100 to 1400 kPa. This amount of measurement adjustability makes the SP40 an ideal choice for any kind of vehicle, from passenger vehicles to heavy-duty trucks and other commercial applications.
Indirect TPMS sensors
Indirect TPMS is a software solution that estimates tire pressure based on data acquired from the car's anti-lock braking system. When the system detects that tires are rotating at different speeds, or that vibrations of a tire have changed, it concludes that the tire's pressure has changed and displays an alert to the driver.
As a pure software solution, indirect TPMS sensors reduce the cost for hardware for each vehicle. However, indirect TPMS requires extensive calibration for each vehicle platform, such that the overall cost remains comparable or even more expensive than direct TPMS. Another drawback of indirect TPMS is the missing possibility to determine an accurate absolute pressure, which makes indirect TPMS slow in recognizing diffusion, i.e., a simultaneous loss of pressure in all tires of the car. Moreover, indirect TPMS often gives a warning after inflating the tires, because it cannot distinguish an increase in pressure in one tire from a pressure loss in another tire. Therefore, an indirect TPMS must be manually reset whenever a car has its tires inflated or changed. This reset however can also be misused by drivers to switch off a tire pressure warning without actually taking any action.
Direct TPMS sensors
A direct TPMS system functions via a TPMS sensor on each tire that directly measures its pressure levels. Instead of relying on pressure estimation from the anti-lock braking system, a direct TPMS sensor in the wheel senses the tire pressure and wirelessly delivers its reading to a control system in the car. A typical example of a direct sensor is a valve based TPMS module, where the tire pressure sensor is attached to the end of the valve inside the tire. This control system measures the air pressure and temperature inside the tire and transmits the measurement data wirelessly to the vehicle. The vehicle can then display the current pressure and temperature of the tire in the dashboard and additionally alert the driver about critical tire conditions.
As its sensors measure the actual pressure inside the vehicle's tires, a direct TPMS sensor frequency consistently delivers accurate, unaffected data. Even when tires are rotated or swapped out for a different size, a direct TPMS sensor will remain unaffected, unlike an indirect sensor, which may become less accurate. What's more, operating batteries inside of a direct TPMS sensor function for at least ten years.
While indirect and direct TPMS both fulfil current regulations and on a basic level provide the same precautionary function, direct TPMS can provide a far superior end user experience. With direct TPMS sensors, the driver can always keep track of the current pressure and temperature inside each tire. In case of underinflated tires, in contrast to indirect TPMS, the direct system can also inform the driver exactly which tires are affected. And finally, direct TPMS also works while the car is parked; a fact that is made use of already today in some vehicles to assist the driver in filling up the tire's air pressure to the correct level.
It is expected that in the future, even more features beyond the mere measurement of tire pressure will become available from direct TPMS sensor manufacturers. Typical examples that are discussed in the industry today are the capability of the tire pressure sensor to determine the load on the tire or to inform the driver when the tire is worn off and needs to be replaced.
Download gallery documents
Details
Main Interiors of SP40+ - Block Diagramme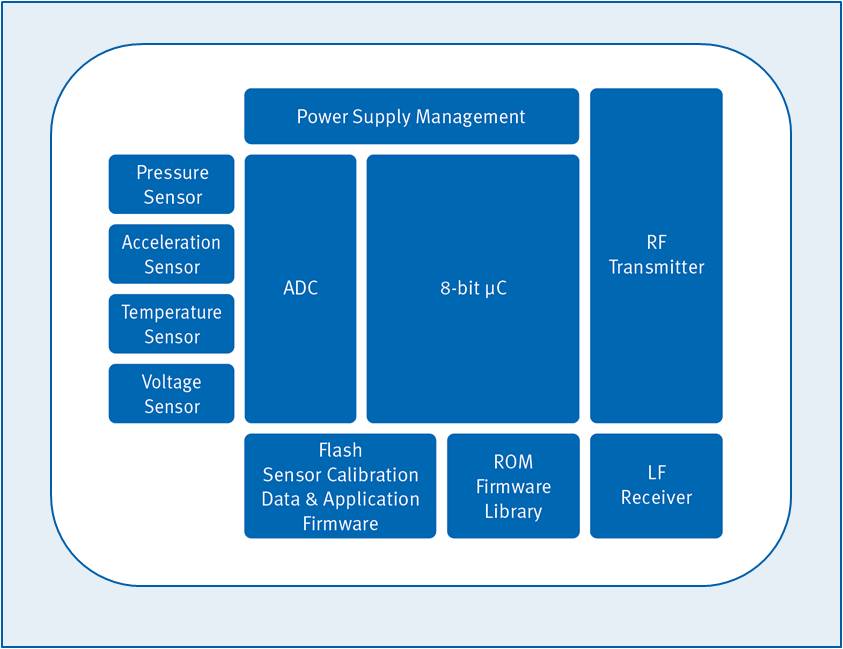 Applications
Fast finder
Welcome to our new interactive sensor selection tool, designed to connect you with the best fit for your design as quickly and effortlessly as possible. Simply select the overarching industry (automotive or industrial/consumer) and drill down on the applications till you find your target use case. The selection tool will then tell you what Infineon XENSIV™ sensor is the best choice for your design. It couldn't be easier.