Tire Pressure Sensor (TPMS)
Overview
SP40+ tire pressure sensor for Tire Pressure Monitoring Systems (TPMS)
Infineon XENSIVTM tire pressure sensors provide a very high level of integration and are optimized to perform all of the functions necessary to implement a state-of-the-art module for Tire Pressure Monitoring system. With its integrated micro controller, sensors and convenient peripherals, the SP40+ needs the addition of only a few passive components and a battery to form a complete TPMS sensor assembly.
SP40+ measures pressure, radial acceleration, temperature and supply voltage and is certified as a green package compliant with RoHS. SP40+ comes with a pressure-auto-ranging feature, providing best-in-class pressure-accuracy in the range from 100 to 1400 kPa, making it the ideal choice for all kind of vehicles from passenger cars to heavy truck applications.
Read more on XENSIV™ – SP40 TPMS sensor for efficient pressure sensing, link to, register and download.
Details
Main Interiors of SP40+ - Block Diagramme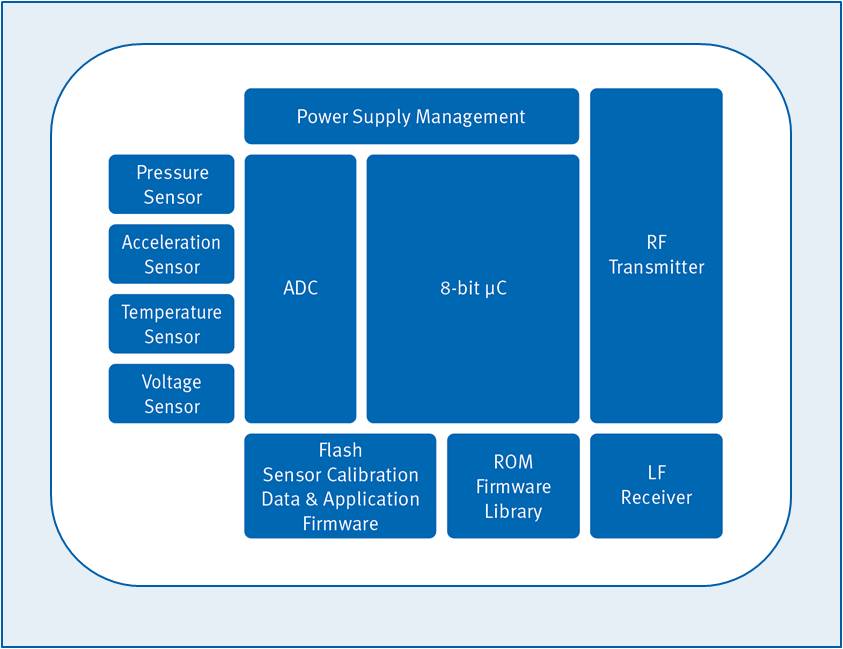 Applications
Fast finder
Welcome to our new interactive sensor selection tool, designed to connect you with the best fit for your design as quickly and effortlessly as possible. Simply select the overarching industry (automotive or industrial/consumer) and drill down on the applications till you find your target use case. The selection tool will then tell you what Infineon XENSIV™ sensor is the best choice for your design. It couldn't be easier.