Xilinx Zynq UltraScale+, RFSoC, power for Zu021DR to Zu29DR - New
Description and features: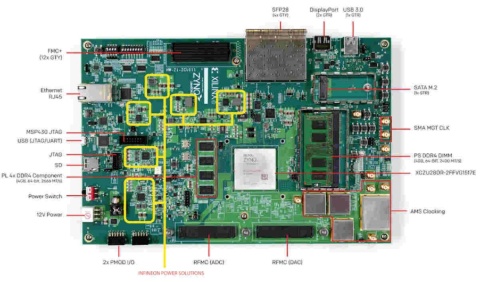 Highlights:
Scalable core and platform voltages for Zynq UltraScale+ RFSoC, Zu21DR to Zu29DR

Proven power design on Xilinx reference design
Zynq UltraScale+ RFSoC power configurations
This section contains the design information for reference design collaboration between Xilinx and Infineon, namely the ZCU-111 reference design by Xilinx for the Zynq UltraScale+ RFSoC.
These are recommendations for the starting point of your design. Look at the table below to find the respective block diagram and files (schematic, BOM, etc.) for each configuration. Extensive performance data is also available from Xilinx.
Infineon Power Solutions Introduction for Xilinx Zynq UltraScale+ RFSoC