MOTIX™ | BLDC Motor Gate Driver ICs
Overview
Infineon offers a broad portfolio of MOTIX™BLDC gate drivers for automotive motor control & functional safety applications
MOTIX™ BLDC motor gate driver ICs comprises of a comprehensive automotive qualified 3-phase gate driver ICs portfolio for voltage domains ranging from 12 V to 48 V with ISO26262 ready as well as compliant variants. Our products are ideal for a variety of automotive applications such as
electric power steering
,
brake booster
, MHEV
starter generator
, active roll control, HVAC compressor as well as
pumps and fans
and where efficiency, space savings and monitoring functions are priorities.
Below you can find an overview of our products and the their diverse application fit: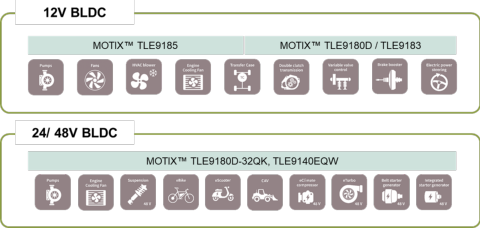 Highlights
Infineon offers different system solutions to meet customer-specific preferences. Infineon´s extensive offering of intelligent motor control ICs is complemented by microcontrollers, sensors, transceivers, voltage Regulators and MOSFETs to simplify the design of end-to-end system solutions and different integration levels are offered based on different customer needs. The TLE9180D 3-phase driver ICs provide the advanced feature set for high current motor drives upto 48V. The latest innovative product family of the Motor System ICs combines the 3-phase driver with supply and communication interface as CAN FD or LIN.
High performance with smooth operation from 0…100% duty cycle, precise dead-time control and a high power gate driver stage with typ. 2 A output current
Reduced BoM due to functional independent phase voltage feedback, safety barrier to protect the MCU, functional independent OpAmps and smart supply concept that is capable to drive external phase separation MOSFETs
Safety features such as somprehensive and configurable protection modes, detailed diagnosis supporting safety relevant use cases and limp home mode increasing the system availability
Digital configuration over the SPI interface and diagnostic functions for fast design changes
Versatility with a wide input voltage range to operate at 12 V, 24 V and 48 V battery voltage domains that fosters platform concepts and enables simplified variant handling
Training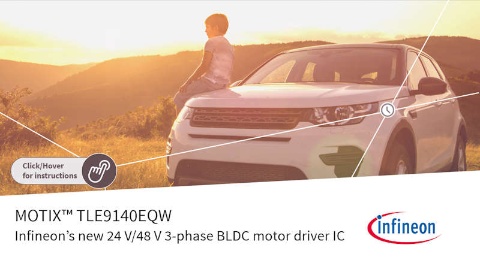 In this training you will:
Know Infineon's new MOTIX™ TLE9140EQW gate driver, its main features and applications.
Understand its configurable parameters and how to best work with them.