Overview
It's time to SWITCH!
Infineon has revolutionized the world of IGBTs with the 7th generation of TRENCHSTOP™ IGBTs, designed with the latest micro-pattern trench technology. This advanced technology offers unparalleled control and performance, resulting in significant loss reduction, improved efficiency, and increased power density in your applications.
Highlights
650 V and 1200 V TRENCHSTOP™ IGBT7 H7
The advanced TRENCHSTOP™ IGBT7 H7 technology addresses the rising demand for green & efficient energy applications. Using the latest micro-pattern trench design, it delivers exceptional control and performance. This leads to substantial loss reduction, heightened efficiency, and increased power density in your applications. It is utilized across diverse industries including String inverters, Energy Storage Systems (ESS), EV Charging, as well as traditional sectors like Industrial UPS and Welding.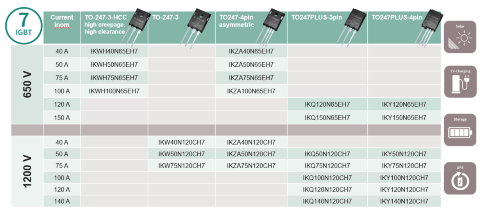 The portfolio includes variants ranging from 40A to 150A, offered in 5 different package types: standard TO-247-3 , TO-247-3 HCC, TO-247-4, TO-247-3 Plus, and TO-247-4 Plus. The TO-247-3 HCC variant of the TRENCHSTOP™ IGBT 7 H7 features high creepage clearance, further enhancing its suitability for various applications. For enhanced performance, consider the IKZA and IKY 4-pin packages, which not only reduce switching losses but also provide additional benefits such as lower voltage overshoot, minimized conduction losses, and the lowest reverse recovery loss. With these advancements, the TRENCHSTOP™ IGBT 7 H7 simplifies your design and minimizes the need for device paralleling.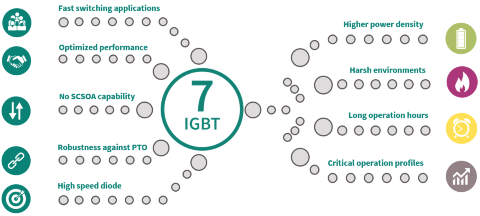 650 V and 1200 V TRENCHSTOP™ IGBT7 T7 and S7
Discover the TRENCHSTOP™ IGBT7 S7 and T7, a powerful and reliable product family designed to cater to all your industrial application needs, especially those requiring Short Circuit Withstand Time (SCWT). With cutting-edge technology and exceptional features, our IGBT7 S7 and T7 portfolio is the go-to choice for a wide range of industrial applications. For industrial motor drives, the IGBT7 S7 and T7 stands as the best-in-class device. With exceptional ease of use and reliability, it is the ideal solution for various applications, including UPS/PV and air conditioner PFC topologies.
Our IGBT7 S7 and T7 devices are co-packed with ultra-soft full-rated EC7 (emitter-controlled) diodes, offering unmatched performance. The IGBT7 boasts significantly reduced IGBT saturation VCE(sat) and low Qrr, ensuring efficient and smooth operations.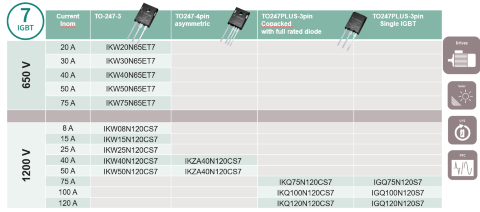 Our product portfolio covers a wide range of current ratings, starting from 20 A and going up to 120 A. Each IGBT is perfectly matched with a full-rated freewheeling diode, ensuring optimal performance and seamless integration.
Whether you are looking for robustness, controllability, or superior performance in your industrial applications, the TRENCHSTOP™ IGBT7 S7 and T7 product family is here to deliver. Experience the future of power electronics with our cutting-edge technology and unlock the potential for unparalleled performance and efficiency.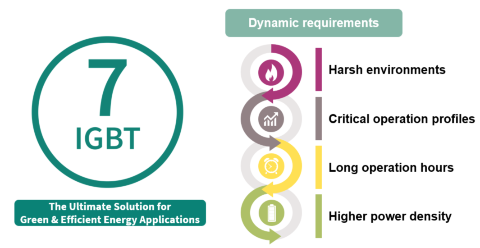 Don't miss out on this opportunity to upgrade your applications with the latest and greatest in IGBT technology. The 7th generation of TRENCHSTOP™ IGBTs offers unparalleled performance and efficiency, making it the perfect choice for any application looking to take their power and performance to the next level. Make the switch today!
Every switch needs a driver, and the right driver makes a difference. Together with the TRENCHSTOP™ IGBT7, we also offer the EiceDRIVER™ gate driver ICs, including low side driver, level-shift driver, and isolated driver. The EiceDRIVER™ family offers a wide range of output current options (from 0.1 A to 14 A) and different protection features like DESAT, Miller clamp, OCP, shutdown, integrated bootstrap diode, and isolation.