Overview
Well-known 34mm & 62mm product family for successful inverter designs
Flexibility, optimal electrical performance, highest reliability.
These are the keywords for a successful inverter layout. Our well-known 34 and 62mm modules are the right choice for your design. We present our product family of half-bridges, choppers, common emitter and single switches at 600 V/650 V/1200 V and 1700 V.
34mm products range from 50 to 150 A nominal current at 1200 V and feature the state-of-the-art IGBT4 chip technology.
62mm power modules have a broad product spectrum; customers can choose from different voltage classes, power ratings as well as different IGBT chip generations. The latest addition to the 1200 V 62mm portfolio is the integration of CoolSiC™ MOSFETs with RDS(on) ratings of 2, 3 and 6 mΩ.
Designers benefit from the large 34 and 62mm product portfolio offering high flexibility and reliability to the user. In addition, the portfolio supports in realizing modern inverter concepts for all kinds of applications in an efficient way.
Highlights
Main Features
Applications

Superior solution for frequency controlled inverter drives
UL/CSA Certification with UL1557 E83336
Operating temperature up to 150 °C
Optimized switching characteristic
Softness
Reduced switching losses
Existing packages with high current capability
RoHS compliant
Also available with pre-applied Thermal Interface Material
62mm Modules with IGBT7 - coming soon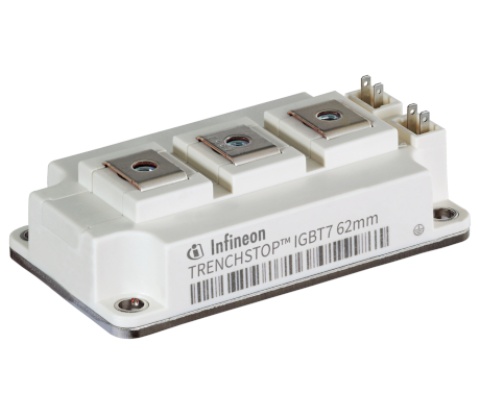 62mm IGBT7 modules are your best choice for a highly reliable and performant power module solution.
This medium power module family is equipped with state of the art TRENCHSTOP™ IGBT7 chip technology. With its 800 A half bridge configuration it offers highest electrical performance within the package family and leading-edge power cycling capability.
High mechanical robustness of 62mm modules is given by solid nickel-coated copper baseplate and screw main terminals. Main terminals placed in the middle of the housing are well fitting for parallel connection and for 3-level configuration due to low inductive DC link connection.
All modules are available with our established pre-applied Thermal Interface Material.
Due to faster development cycles and limited development resources, Infineon provides EVAL boards helping to make first module measurements. Latest driver chips from us are used to be adopted for serial usage. Schematic, layout and part list are given in the EVAL Board user guide.
Key Features
Main Applications

Robust module design
Ready for parallel connection
Ready for 3-level configuration
Ideal for low-inductive system designs
Higher module performance and current rating from new IGBT chip technology
Pre-applied TIM (Thermal Interface Material) for lowest thermal resistance, increased system lifetime and simplified mounting
UL/CSA Certification with UL1557 E83336
Operating temperature up to 150 °C and 175°C overload
RoHS-compliant modules


62mm Modules with CoolSiC™ MOSFETs


CoolSiC™ MOSFETs reduce the system complexity leading to lower system cost and size in mid to high power systems. Thanks to the outstanding material properties of SiC, solutions which have been possible in the low-voltage world (< 600 V) are now feasible at higher voltages as well.
Thanks to the superior trench technology in combination with the thick gate-oxide, CoolSiC™ MOSFETs offer highest reliability. In addition, the CoolSiC™ body diode is long-term stable and does not drift.
CoolSiC™ Trench MOSFET as industrial benchmark technology opens and enlarges the 62mm power module market for high volume application where Silicon IGBT technology reaches its limits.
This module family is targeting EV charging, energy storage systems, solar central inverters, auxiliary power supply for traction, server & IT infrastructure as well as commercial cooking.
62mm modules with CoolSiC™ MOSFET
Application benefits

High-speed switching module with very low losses
Symmetrical module design for same switching behavior by upper and lower switches
Standard, proven fabrication technique
Production at 62mm high-volume line

Minimal cooling effort due to very low switching losses
High switching frequency for fewer magnetic components
Smaller footprint and volume
Reduction of system-costs enabled by module concept